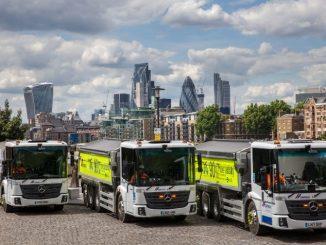 With just over a fortnight until enforcement of the Direct Vision Standard (DVS) begins, less than 20% of HGVs are ready for the scheme, SmartWitness has warned.
The telematics firm said most fleets had done "too little too late" and there was now a massive bottleneck on installations of approved cameras and sensors.
It said Transport for London (TfL) had issued only 50,000 DVS permits, which was only 12% of the total number of HGVs in the UK and less than 60% of the 91,800 lorries in London and the south east.
SmartWitness also said it was now being approached by fleets wanting to take advantage of the TfL 'grace period', which gives them a 90-day extension to get their vehicles kitted out and avoids £550 daily fines.
Read more
Fearghal MacGowan, Smartwitness MD, said: "There is simply no way we will fit in the orders by the March 1st deadline.
"The only way around this is to book an installation now and SmartWitness can get on to TfL and get an extension granted.
"We are sending TfL the proof of install date before the end of May so that it falls inside the 90-day grace period on letterheaded paper, as will our partners and resellers."
Last month, TfL warned that there were "many HGV operators" in London who had not yet applied for a free safety permit: "We encourage them to apply as soon as possible to ensure there is enough time for their application to be processed," said Christina Calderato, TfL head of transport strategy and planning.