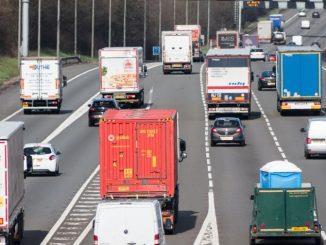 Telematics and tracking specialist Teletrac Navman has launched its latest initiative, 'Going the extra mile', which highlights the work carried out by the hidden heroes in the UK's transport and logistics sector.
The campaign aims to showcase those logistics workers, from managers to drivers, who have made significant efforts to ensure supplies get through during the Covid-19 pandemic.
Each quarter, Teletrac Navman will select one or a team of individuals for a 'hidden hero' award. This quarter sees Metropolitan Thames valley subsidiary Metworks drivers Dave Chapman, Liam Staples, Patrick Brian and Josh Sharp, nominated for their efforts.
The team is part of Metworks' repairs and maintenance division and were recognised for volunteering to deliver a mix of essential and non-essential items to those in need on behalf of the charity Giving World.
Richard Lilwall, MD at Teletrac Navman, said: "During the past 18 months we have seen individuals such as the team at Metworks on the front line of transport and logistics, who have kept the country going, playing a vital role in serving the various members of our communities. Fleet managers and drivers have had to bear a considerable load, and this campaign allows us to give back, to show them that they are valued, and their efforts have not gone unrecognised."
Transport manager at Met Works, Joe Masters, said: "The past year has been quite challenging at times, and everyone across the industry has felt the additional pressure placed on them, but that little recognition, that little something that shows you appreciate people's efforts, goes a long way.
"This initiative with Teletrac Navman will provide many drivers, like Dave and the team, with that added pep in their step to keep them going. It is important to understand the challenges associated with driving for work, and I think Teletrac Navman truly understands that.
"Honouring those hard working, selfless colleagues who have really pushed themselves throughout the course of the year, is something we should all support, and will definitely help to boost the overall mood of the sector."
Dave Chapman and the team at Metworks donated their Hidden Hero prize funds to their chosen charity, Cancer Research UK.
More information about the campaign can be found at https://bit.ly/3eGWwPf