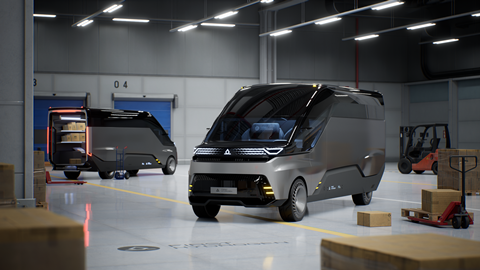 Zero emission vehicle manufacturer First Hydrogen has unveiled images of its Gen II hydrogen fuel cell-powered van, as it kicks off road trials of its first generation light commercial vehicle (LCV).
Both the Generation I and Generation II LCVs will be available with either hydrogen fuel cell electric or battery electric drive trains. The vehicles will have a range of over 500km.
Steve Gill, chief executive of automotive for First Hydrogen, said: "These concept vehicles provide a glimpse of our company's future and give a clear indication of our brand direction within the LCV space.
"A spacious and easy to access cabin gives drivers comfort as well as good visibility of the road ahead and enables them to move in and out of the vehicle quickly, which is vital for express delivery and time-sensitive operations that require drivers to make multiple stops.
"The clean and modern design is flexible to suit use in a range of industries; it secures First Hydrogen's position as a developer of functional vehicles that will take operators into the zero emissions future."
Bernat Costa, design director at EDAG Spain, added: "The Generation II vehicles show how clean energy can be applied within everyday operations.
"We have also incorporated First Hydrogen's signature style, which gives the vehicles a recognisable identity.
Read more
He added: "They look modern and will boast high performance zero emissions technology but have a clean, minimalist design to ensure they work well in a range of commercial settings.
"The design accommodates a number of customisable elements, providing customers with a choice of sizes and bespoke elements to ensure the vehicle best fits their operations."
The Generation II vehicle is in development while First Hydrogen road tests its Generation I fuel cell electric vehicles (FCEVs) with members of the UK Aggregated Hydrogen Freight Consortium (AHFC).
The trials involve major UK fleet operators including vehicle management provider Rivus. The vehicles will be tested across a range of industry sectors including parcel delivery, grocery, utilities, healthcare and roadside assistance, enabling First Hydrogen to trial the vehicles in a variety of real-world operational settings.
First Hydrogen is designing and building its hydrogen-fuel-cell-powered light commercial demonstrator vehicles under two agreements with AVL Powertrain and Ballard Power Systems Inc.
It is also developing refueling capability working with FEV Consulting GmbH, the automotive consultancy of FEV Group of Aachen Germany. The company is also pursuing opportunities in green hydrogen production and distribution in the UK, Canada, North America and Europe.