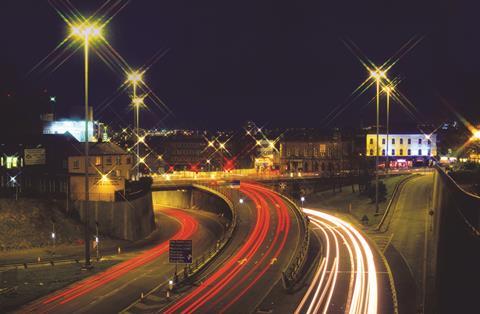 If a retailer wants to consider handling deliveries outside the traditional peak delivery window, there are numerous hoops to jump through and, until now, the potential benefits have not seemed worthwhile. But the results of the DfT-funded Quiet Delivery Demonstration Scheme (QDDS) trials have shown there are a significant number of benefits available – both commercial and environmental.
Faster round-trip journey times; reduced vehicle turnaround times at stores; better fuel consumption from less time spent stationary, idling in congestion; improved shift productivity from drivers and vehicles; increased product availability in store; less congestion; better local air quality and fewer carbon emissions. To any transport operation, this list of benefits is music to the ears.
The brainchild of the Noise Abatement Society (NAS) and the FTA, the QDDS was set up in November 2009 in conjunction with the DfT to investigate the potential benefits from relaxing delivery curfews for quiet deliveries. After a thorough selection process, trials at six sites belonging to Tesco, Superdrug, Asda, Morrisons, Marks & Spencer and Sainsbury's, took place over a 15-month period, ending in March this year. Although only four of the trials were completed, valuable lessons were learnt.
Alternative times
The scheme was managed by freight specialists at transport consultants Transport & Travel Research (TTR), with other members of the project team consisting of NAS, the Transport Research Laboratory (TRL) and AEA Technology.
Chris Douglas, QDDS project manager and director of TTR, tells MT: "From an operational point of view, out-of-hours deliveries make a lot of sense. If you can run your operation at an alternative time of day where there is less idling time and quicker average speeds, you're going to save fuel. Rather than try to shoe-horn deliveries into a small, highly-congested window, common sense says we should try to use other delivery windows. It needs to be done in a way that includes best practice – both technological and behavioural."
James Hookham, MD of policy and communications at the FTA, agrees: "These trials show that quiet night-time deliveries can be done, but it's not a question of a blanket lifting of existing delivery restrictions as every site is different and has different issues. Sometimes residents' complaints are justified, sometimes they're not. We now have a toolkit to show operators and retailers how they can apply to conduct their own night-time trials, which is encouraging for those who want to extend delivery windows."
The Process
Before each trial was allowed to proceed, a working group was formed for each site, usually consisting of the store manager, local environmental health officer, someone from the QDDS project team, and the logistics/transport manager from the retailer or its third-party operator. The working group would agree the objectives for the trial and NAS would conduct a site assessment report, highlighting the key noise risk areas. In the case of Trial 1 at Sainsbury's in Bournemouth, Dorset, the key noise pollutants were from roll cage movement, yard gates, the vehicles themselves, and unloading activity.
Driver charter
A series of actions was agreed by the working group and incorporated into a Memorandum of Understanding (MoU). A driver charter was developed by Sainsbury's to brief drivers on behavioural practices when delivering to the store during the trial, such as switching off reversing alarms and engines when not moving vehicles. During the trial, weekly reports were circulated and Bournemouth Borough Council arranged for a resident to complete noise logs, which were distributed to the working group members. The members of the group remained in contact during the trial and, on review, the trial was deemed a success.
No complaints were received throughout the trial and an effective working relationship was established between Bournemouth council and Sainsbury's. Another success was the involvement of 'direct deliverers' (bread and milk) in the trial and the willingness to disseminate best practice (including the contents of the driver charter) in their own businesses.
The noise-monitoring results indicated that the introduction of operational best practice can have a minor effect on the whole delivery and loading /unloading procedure. But the major contributors to noise levels remain the vehicle engine on arrival, on-site manoeuvring and departure.
In terms of operational efficiency, Sainsbury's reported improvements in fuel consumption of 5.7% for night-time operations compared to daytime equivalents. The store also reported trading benefits of night-time deliveries with improved stock replenishment and availability, as well as better utilisation of store staff.
"The successful outcome of the trial demonstrates that working together in this way can deliver sustained results, which all parties can be satisfied with," says Morag White, environment manager, logistics, at Sainsbury's. "Following the trial, the delivery times have remained as they were, overseen by both parties, which continue to monitor store delivery performance."
Lasting legacy
With the London 2012 Olympics heavily affecting deliveries next summer, many retailers need to look at ways around the Olympic Route Network (ORN) restrictions, and night-time deliveries are seen as an option.
"The Olympics are an ideal opportunity for well-managed, well-controlled, out-of-hours deliveries," says Douglas. "There's an ideal opportunity with the Olympics to review how deliveries take place and if best practice can be implemented in 2012, hopefully we can create a lasting legacy to service premises."
Hookham is hopeful the QDDS results will show TfL that there is a workable solution for night-time deliveries. "We've pushed the boundaries back a long way with these trials. Retailers that need to extend their delivery window during the Olympics should download the guide and ensure they understand any restrictions in place on their sites. Is it a planning consent; is it a curfew restriction – they need to know why it's in place so they can find the best way to tackle it."
Jerry Ward, manager of legal operations at John Lewis Partnership, says: "We have to look at out-of-hours deliveries as we have a Waitrose and John Lewis store opening soon at the Westfield shopping centre in Stratford, close to the Olympic Park. We've also got a couple of Waitrose stores affected by the ORN.
"We're trying to get information from TfL about the Olympics so we can plan, but it seems to take a long time to come through to the relevant people. We'll look at the QDDS guide for retailers," adds Ward.
Cost case
Wincanton has been running what it calls silent deliveries for WH Smith for the past eight years, and largely manages this through behavioural training rather than expensive quiet kit for its fleet.
Gareth Smith, Wincanton solutions director, says: "We could do more, such as investing in special quiet equipment, but with councils reticent on allowing night-time deliveries, it's not worth it. We mainly do it through driver training – but that only takes you so far."
Smith says it is frustrating that London boroughs make their own decisions on delivery curfews. "We might be able to deliver out-of-hours in one borough, but in the next we're not allowed. We could do with a collective agreement among all the boroughs. That would make it worthwhile for us to invest in sliding doors, for example, rather than close-and-shut doors.
"The work we do for WH Smiths is successful – we don't have complaints from residents. We support the trials that have been done," adds Smith.
"For the future of high-street deliveries, we believe 50% of deliveries should be done out-of-hours. We can be more efficient and effective if we're not caught in traffic, plus there's less carbon being emitted. Also, there is improved safety as there's less chance of accidents as there's less traffic around and fewer cyclists and pedestrians."
Consolidation centres
Smith predicts that in the future we will see pre-retail consolidation centres outside city centres. "Investing in quiet equipment is a significant capital investment, so perhaps we need to consider shared user activities on the high street. A pre-retail consolidation centre would have the final mile deliveries pre-loaded on high-spec, low-noise vehicles."
Hookham adds: "If we don't want all the retail outlets to be built out of town and we want to keep town centres thriving, then it should be made as easy as possible for retailers to receive deliveries."
Douglas's advice to retailers and their transport partners is to be realistic about where to consider introducing out-of-hours trials. "There may be too many sensitivities and it won't be feasible. But for every one that isn't, there will be lots of sites that will be perfect for quiet out-of-hours deliveries."
THINKING OF SETTING UP A QUIET DELIVERY TRAIL?
Provide as much in-depth information as possible (in the structure of an application form) to the local authority.
Appoint a competent person to produce a site assessment report to review store delivery practices and to implement improvements to mitigate key sources of noise.
Comply with all elements of the MoU prepared for the trial and ensure all store staff are made aware of the trial and its importance.
Produce a driver charter to remind drivers of their obligations when delivering to where the trial is taking place.
Liaise with the local authority and appoint a competent person to install noise-monitoring equipment for the duration of the trial to demonstrate that noise levels are being monitored.
Engage with local residents before, during and after the trial to establish good communication links and keep residents informed of general store activity.
Collate key data before and during the trial for analysis to assess and present the benefits of the new delivery times on store performance and transport operational efficiency.
Be responsive to local residents' concerns and make efforts to address complaints.
Ensure own vehicles and those of suppliers do not arrive at the store too early, in advance of the agreed delivery window, and avoid vehicles waiting near to residential properties.
For curfews imposed through planning restrictions, retailers need to invest time in completing application forms and assembling supporting documents to ensure full compliance with the statutory processes. Retailers also need to be aware that despite their efforts, there is no certainty that restrictions will actually be revised.
When planning store developments, consider the proximity of service yards and delivery bays to residential properties, effectively designing out potential conflict as far as possible.
Be aware that breaches of existing restrictions or of those in place during the trial may lead to closer scrutiny of their activities by local authorities.
Be aware of the delivery curfew restriction types and develop an understanding of how to deal with each.