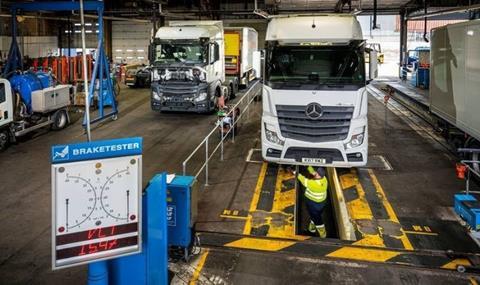 Sapphire Vehicle Services (SVS) has won recognition as an authorised repairer of both Isuzu and Mercedes-Benz trucks at its Basingstoke depot.
As an authorised repairer the facility is now able to work on Isuzu's range of Grafters, N55-75 and F110-135 rigids from 3.5 to 13.5 tonnes, as well as Mercedes-Benz Actros, Arocs, Atego and Econic models and can also undertake warranty repairs.
The workshop is also geared-up to maintain and repair semi-trailers as well as trucks. It has 14 bays, two with 35-metre pits and another with an 18-metre pit and is equipped with diagnostic and other tooling.
SVS MD Perry Reeves said: "We'd already brought in a new management team at Basingstoke before work on this project began 18 months ago.
"We've also spent in excess of £150,000 – and a lot of time and effort – to ensure the building is fully compliant with our authorised repairer status."