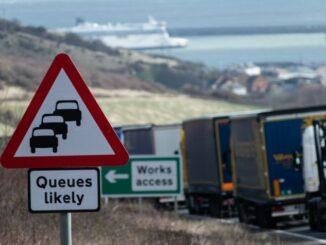 Government must act decisively and create a permanent parking site for handling queues of lorries when there is disruption crossing the channel, the RHA said this week.
The call comes as this weekend saw lorries continuing to queue on the M20 and A20 into Dover, as disruption to traffic crossing the Channel threatened to enter its third week.
Hauliers have faced severe delays getting in and out of Dover since 1 April, as a result of the suspension of P&O ferries, increased holiday traffic and problems last week with the HMRC's Goods Vehicle Movement Service (GVMS).
The queues saw lorry drivers, including many with perishable goods, trapped for up to 24 hours, with no access to toilets and food, in lengthy queues on the M20, where Operation Brock is still in operation.
RHA is calling for decisive action from both local and national government to create a permanent contingency site for handling lorries, adjacent to the M20.
The site would be designed for contingency use when there is disruption crossing the channel and used and managed by the police and highway authorities to control and direct the flow of lorries. It would also provide rest, food and hygiene facilities for drivers while held.
RHA added: "Permanent communication and control infrastructure would be available on the site, allowing for more efficient, safer control of the lorry flow. It could be used for tunnel and/or ferry disruptions to avoid the now routine on-road holding of lorries.
"Such a site could also be used to provide priority for perishable and hazardous products when managing disruptions.
Read more
The M20 – Dover Straits route accounts for around 3.6 million lorry movements per year, amounting to 55% of the market.
It is the main corridor for fresh food to move between the UK and continental Europe and as well as time sensitive manufacturing components.
Rod McKenzie, RHA MD of public and policy affairs, told MT: "We cannot keep seeing this every time operational disruption occurs.
"It is unfair on the people of Kent, unfair for lorry drivers who have to put up with appalling conditions, expensive and time consuming for the police and could potentially damage the economy.
It is time to take decisive action and deal with this long-term problem."
Hauliers are becoming increasingly frustrated. Mike Parr, director of Perishable Movements Limited, said the government had failed to prepare a contingency plan to avoid the recent disruption.
He told MT: "It is a shambles. The government knew the P&O sackings and the customs upgrade to GVMS would cause disruption, so why did they not do something about it?
"Why did they not charter ferries to clear the backlog or put on additional trains? This will only get worse, as more and more people go on holiday," he added, pointing to the extra Bank Holiday in June this year.