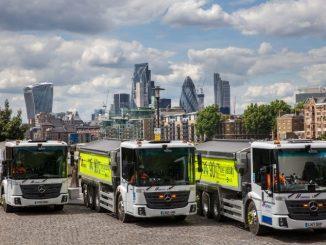 HGV operators not yet compliant with the Direct Vision Standard (DVS) should consider renting trucks to avoid thousands of pounds in fines, according to Enterprise Flex-E-Rent.
Following concerns raised by telematics provider SmartWitness that with only days to go, less than 20% of vehicles comply with the DVS, the CV rental firm said these operators should opt for renting.
It predicted that there was likely to be an influx of DVS safety permit applications as the 1 March deadline approaches, making the registration process even longer.
Danny Glynn, Enterprise Flex-E-Rent MD, said rental vehicles also needed to be DVS-compliant: "Operators can retrofit their existing fleets, but this will increase costs and lead to downtime," he said.
Read more
"We are advising businesses to think about how renting a DVS-compliant truck for use within Greater London, on daily hire or longer flexible rental terms, could be a cost-effective measure.
"With so much pressure on the commercial vehicle sector at present, committing large capital expenditure on new vehicles or retrofits may not be an option.
"On-demand, DVS-compliant rented HGVs may be a better solution."
Last week, SmartWitness said it was now being approached by fleets wanting to take advantage of Transport for London's 'grace period', which gives them a 90-day extension to get their vehicles kitted out and avoids £550 daily fines.