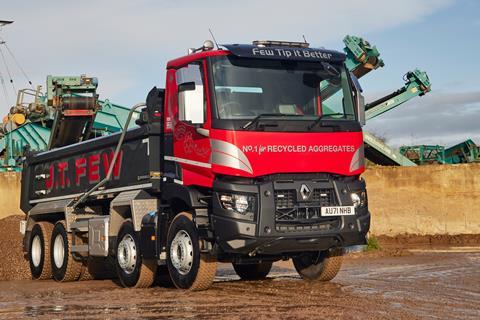 Ipswich-based JT Few Plant Hire has put four new Renault tippers into service to keep pace with increasing demand.
The C430 8x4s, fitted with Marshall's Hardox Lightweight Tipping Bodies, were put into service in December with an additional two joining in January.
The firm said another four C430 eight wheelers are planned for later in 2022.
The new trucks operate out of construction sites across the Ipswich area, bringing aggregates back to JT Few's own recycling centre and reloading the recycled aggregates back out for resale.
Company director Ben Few said: "Having worked with Renault Trucks since the 1990s, they have been extremely good to us over the years.
"It's imperative that the trucks are out on the road and, to be honest, we just don't experience the breakdown issues that we do with other manufacturers."
Few added: "We got three manufacturers to quote for the four trucks and we asked for their best price, first time.
"Norfolk Truck and Van was the only one to listen to the brief and offer the best price on the new Evolution model."