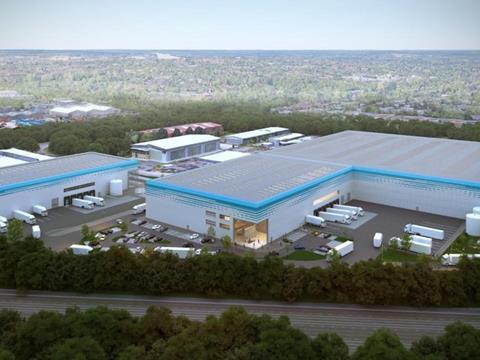 Global real estate developer and investor Trammell Crow has chosen Milton Keynes as the location for its first industrial logistics facility in Europe as it announces plans to launch similar schemes across the UK.
Construction company Glencar has been chosen by Trammell Crow to build three grade A logistics units totalling 338,000sq ft, on the site of the former Arcadia Distribution Centre in Milton Keynes.
The three units will range from 221,500sq ft, 71,000sq ft and 45,500sq ft and will have clear heights ranging from 12.5m to 15m.
All three will feature an increased roof loading capacity to cater for solar panels and natural daylighting.
The specification also includes transformers and primary electrical frameworks sized for increased electric demand and reserves of power in addition to infrastructure suitable for electric vehicle charging.
The internal floor slab has been designed to offer increased capacity for floor standing mezzanines and pick towers, and flexible office space will accommodate various different configurations.
In addition, the units will seek BREEAM Excellent certification by providing efficiencies in natural and artificial lighting, heating, cooling and ventilation, water conservation and storage as well as environmentally friendly construction materials.
Read more
Construction is due to begin in July and will take 43 weeks with the units expected to be available by May 2023.
Mike Forster, director and head of UK logistics for Trammell Crow, said: "As our first acquisition in Europe since entering the market, this scheme serves as an important first development for Trammell Crow Company.
"Our newly formed and fast-growing team in the UK is focussed on large scale industrial and logistics development and investment initiatives throughout the region.
"Milton Keynes is widely considered to be one of the key prime logistics locations in the UK with excellent transport infrastructure that serves to attract a number of manufacturers, 3PLs and increasingly large retailers operating their own distribution facilities.
"We've assembled the best team in the market to deliver this project and are delighted to have appointed Glencar who have developed a market leading reputation for the delivery of industrial and logistics facilities. We look forward to working together and seeing the scheme emerge."
Glencar MD Eddie McGillycuddy added: "We are absolutely thrilled to have been instructed by Trammell Crow Company to deliver their first development in the UK since entering the market last year.
"For Glencar to have been appointed to such an important debut development by a global developer of Trammell Crow Company's scale is a major endorsement of our credentials and we are delighted.
"We look forward to getting started onsite shortly and working closely with the full project team."