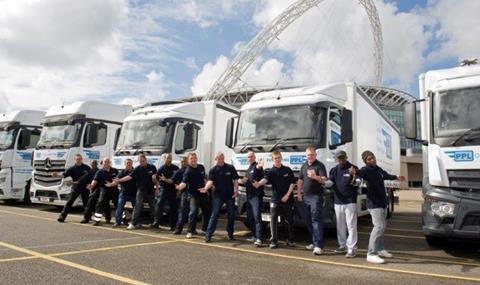 PPL London is celebrating its 30th anniversary and has predicted turnover this year will top £6m.
From humble beginnings, which saw MD Adam Hopcroft distributing goods around London in his transit van from his council flat in Stonebridge, PPL then grew via a contract with its biggest customer, Spicers Stationary.
Hopcroft was then able to employ more drivers and invest in new fleet and the business now boasts a 35,000sq ft premises, employs over 50 staff and has a fleet of 40 vehicles.
The company prides itself on being able to offer same-day freight services, overnight pallet distribution and general road haulage deliveries across the UK and internationally.
Hopcroft was declared bankrupt in 2004 but his resilience and hard-working nature ensured the business has survived.
Hopcroft also attributes his success to operations director Deborah Jenkins: "A special mention needs to be given to Deborah, who has played an integral part in the success of the business, steering the ship, whilst I concentrated on the finances to keep us fighting," he said.
PPL London are also members of Pall-Ex Group which allows for cost savings which can be passed down the supply chain.
"The partnership with Pall-Ex was just what we needed to build ourselves back up again," Hopcroft added. "We now service specific postcodes in the West and North-West of London. The whole Pall-Ex team are always there to help and listen."
Together, the companies have pioneered "The London Project" - which was specifically set up to regenerate the transport industry within the area.
The key objectives were to provide Pall-Ex members and their customers with a quality commercial advantage, increase profitability, drive fuel efficiency, and ensure sector-leading service levels within London.
"The London Project has been a huge success, and something we are extremely proud to have been a part of," Hopcroft said. "We've been able to offer excellent service to our customers, with the backing of Pall-Ex."
Added Kevin Buchanan, chief executive of The Pall-Ex Group: "Our members make us who we are, especially those we hold a long-standing relationship with. PPL has been with us for a while, and together we have weathered many storms. It's partnerships like these that make us stronger."
PPL reached the milestone in July 2023 and will celebrate with all its team at Kempton Races in September. The company thanked all its staff for their commitment, dedication, and hard work.