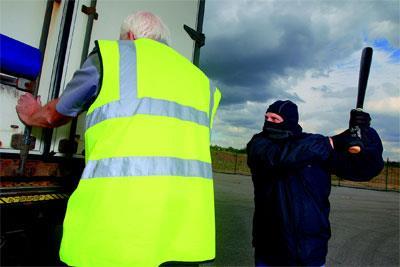 More than 60 cargo thefts from trucks have been reported since the beginning of 2021, amounting to over £1m worth of goods stolen, according to the latest figures from the freight division of the National Vehicle Crime Intelligence Service (NAVCIS).
Thefts include a high value cargo of fine wines stolen on 4 January from an HGV in Basildon Essex, the theft of three HGVs and their trailers at Totton in Hampshire on 9 January, the theft of a trailer and high value exercise equipment at Wakefield in Yorkshire on 11 January and an incident at the Hartshead Moor services on the M62 where a consignment of high value shoes was stolen on 13 January.
In total, 62 cargo thefts from trucks has been reported so far this year, valuing £1.1m with the average cost price value loss per incident estimated at £17,741.
NAVCIS Freight is also warning that jump up thefts, in which thieves break into trucks that are stationary at traffic lights or in traffic jams, are on the rise. The problem is particularly prevalent in London and the south east, NAVCIS warns with a total of 35 incidents reported between 1 December 2020 and 20 January.
Read more
NAVCIS Freight is advising hauliers to fit E-locks which can alert drivers and transport managers that the doors at the back of the vehicle are being tampered with.
The organisation is also warning hauliers carrying cigarettes to be particularly cautious and asking that, when loading goods, operators ensure high value goods are not loaded near the doors of the vehicle and that tote boxes are sealed so that thieves cannot easily identify the goods when they break in.
Tom Cotton, RHA head of licensing infrastructure policy, who is working closely with NAVCIS Freight to cut cargo thefts, said: "Operators must train their drivers to be vigilant. Drivers should always be aware of who is following them and to look out for mopeds or scooters that may be following them as these are often used as scouts for the thieves. And if in doubt, drivers should not hesitate to call 999."
He added: "With regard to jump up crimes, one really good tactic drivers should use is to ensure there is always at least two car lengths in front of their trucks when stopping in traffic so that you can move off easily, which will alarm the thieves."