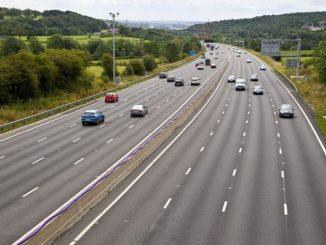 Smart motorways are "inherently unsafe and should be abandoned" a South Yorkshire police and crime commissioner is warning.
Dr Alan Billings has written an open letter to transport secretary Grant Shapps following a recent inquest which found that Jason Mercer, 44, from Rotherham, and Alexandru Murgeanu, 22, of Mansfield, who died when a lorry crashed into their vehicles on a smart motorway section of the M1 on 7 June 2019, had been unlawfully killed.
The inquest saw coroner David Urpeth call for a review of the road scheme which he warned created "an ongoing risk of future deaths".
Dr Billings letter states: "I believe smart motorways of this kind - where what would be a hard shoulder is a live lane with occasional refuges - are inherently unsafe and dangerous and should be abandoned.
"The relevant test for us is whether someone who breaks down on this stretch of the motorway, where there is no hard shoulder, would have had a better chance of escaping death or injury had there still been a hard shoulder - and the coroner's verdict makes it clear that the answer to that question is yes."
Dr Billings accused Highways England of being "seduced by false comparisons" to increase the number of lanes and aid traffic flow at a lower cost than if a hard shoulder had been built.
He added that driving on smart motorways where there is no hard shoulder increases "anxiety and tension" due to fears of breaking down in a live lane with HGVs following at speed.
Read more
DfT research shows that deaths on the first nine 'all-lanes-running' schemes – where a hard shoulder is turned into a fourth lane – rose from an average of zero to 2.8 per year.
Figures for overall collisions in live lanes rose more than six-fold from an average of three to 19 per motorway.
Meanwhile, serious crashes leapt more than 23 times from 0.3 per year to seven, and slight collisions almost quadrupled, from 2.3 to 9.1.
The figures are believed to relate to sections including those on the M1, M6 and M25.
In the 2019 Stocktake and Action Plan report, which used Highways England data, the DfT claimed the 'risk of a collision involving a vehicle stopped in a live lane remains relatively small' and overall accident figures for the roads reduced because of the elimination of hard-shoulder collisions.
In response to Dr Billings' letter the DfT spokesman said evidence showed that "in most ways smart motorways are as safe as, or safer than, the conventional ones".
He added: "The Transport Secretary has tasked Highways England with delivering an 18-point action plan to ensure they are safer still, and he has called an urgent meeting with the company to discuss their progress."