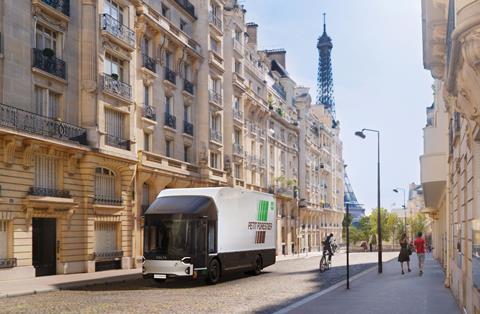 Refrigerated vehicle hire giant Petit Forestier is set to provide rental and leasing truck solutions for the refrigerated versions of the 16-tonne and 18-tonne Volta Zero in the UK and Europe.
The new agreement between electric vehicle manufacturer Volta trucks and Petit Forestier is an extension of an exisiting purchase and supply agreement between the two companies.
It will see Petit Forestier become the rental and leasing partner for the refrigerated version of the all-electric 16-tonne and 18-tonne Volta Zero across a selection of Volta Trucks' European markets including France, Spain, Italy, Netherlands and the UK.
The two companies said this week that the new agreement will enable customers to benefit from Volta Trucks' expertise in electric trucks and charging infrastructure, combined with Petit Forestier's expertise in refrigerated full-service solutions, and help to simplify the transition to an electric fleet.
Petit Forestier, which was founded in 1907, operates a refrigerated rental fleet of over 70,000 vehicles and currently covers 20 countries in Europe, Africa, the Middle East and the United States.
Read more
It provides over 15,000 customers with temperature-controlled logistics and transport, from product manufacture to the end consumer.
Essa Al-Saleh, Volta Trucks chief executive officer, said; "The Volta Zero has been specifically designed to provide zero-tailpipe emission urban logistics in a city environment, and temperature-controlled transport of goods are a vital part of that strategy, for us and our customers.
"Our partnership and rental agreement with Petit Forestier further demonstrates our commitment to providing our customers with a simple, easy-to-manage and de-risked transition to an all-electric transport solution, helping to make our city centres safer and more sustainable for everyone."
Léonard Forestier, Petit Forestier Group president, said: "Petit Forestier is a family business that has always been able to anticipate the challenges of each era, since its creation in 1907.
"The future of refrigerated transport will be greener and simpler. Committed to moving towards the energy transition, Petit Forestier is constantly developing its range of alternative energy refrigerated vehicles.
"We are working hand in hand with our partners, to provide to our customers, innovative solutions that meet environmental challenges.
"We are proud to partner up with Volta Trucks to propose the refrigerated Volta Zero, the result of a partnership built on innovation and sustainable development."