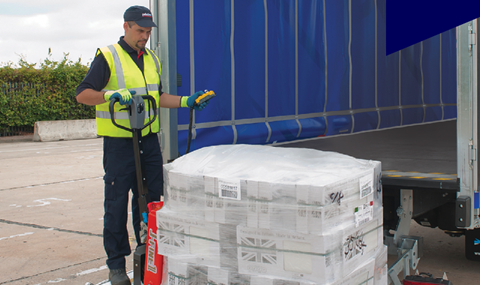 Palletline has issued a new training module to support network members with the implementation of the latest tail-lift guidance, issued by the RHA and the APN last month.
The pallet network's Toolbox Talk provides members with a tailored training module that can be used within its own businesses to deliver refresher courses on the hazards of tail-lift deliveries, effective use of dynamic risk assessments and the implementation of the latest best practice guidance.
Pallet deliveries to residential addresses have been rising significantly for a number of years, Palletline said, and UK network members saw B2C deliveries surge during the coronavirus pandemic, driving up the use of tail-lift equipment to meet customer demand.
In 2016, Palletline introduced a 750kg tail-lift restriction, and its Lift Assist service for pallets weighing between 751 – 1000kg, which saw tail-lift vehicles throughout its network equipped with power assisted pump trucks.
Read more
The restriction helps Palletline manage the weight it expects its drivers to manoeuvre. Extending the maximum level to 1000kg through the Lift Assist service reduces the strain on delivery drivers and improves their ability to control the pallets when making deliveries.
Commenting, Graham Leitch, Group MD, said, "Palletline was the first network to bring in a 750kg tail-lift restriction and it has undoubtedly kept our people and the wider public safer over the past five years. The latest guidance from the RHA and APN details some additional best-practice, that can be implemented by our members to support our existing safety measures.
"With an emphasis on dynamic risk assessments, our training module incorporates the latest guidance from the RHA and APN, alongside our own robust safety measures, to provide a single, network-wide standard for tail lift deliveries.
"At a time when industry-wide volumes are at an all-time high, our people's safety remains our number one priority."