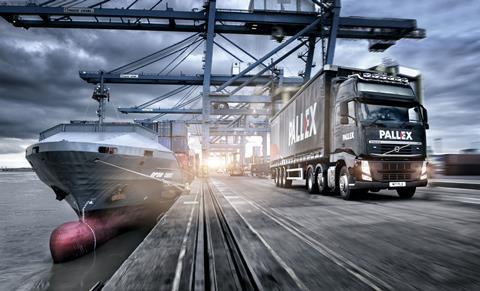 Pall-Ex Group has moved to reassure customers that it has the resources to maintain smooth trading with international businesses amid the ongoing challenges of Brexit.
The group, which includes the networks Pall-Ex as well as Fortec, said despite difficulties brought about over the last 12 months by the UK's break from the EU, as well as Covid-19, companies should be giving their customers in the EU the confidence to continue buying goods in this country.
It said both of its network memberships had ensured they had the resources to adapt to new rules and its preparations for Brexit had kept disruption to a minimum.
The group's announcement follows pallet firm TPN's comments last week that it was "considerably ahead" of competitors with four trailer loads a day going to Dublin and three to Belfast with no delays in service.
Read more
Mark Steel, MD of Pall-Ex's international business units, said: "Our main aim is to ensure that local businesses who need to export to Europe or Ireland can continue to do so with minimal disruption.
"Our team has been working flat out to support businesses that are having to adapt and accommodate these new processes at short notice from the government.
"We want to emphasise that businesses should not be deterred by these challenges and instead should give customers in the EU confidence to continue buying goods from the UK."
Pall-Ex Group chief executive Kevin Buchanan said many businesses were on the back foot due to the timing of the UK's exit over Christmas: "We have seen some major players in the logistics sector choose to suspend their services between the UK and Europe, but the entire Pall-Ex Group remains fully operational and we retain strong links with our international partners," he said.
"We want to reassure customers that we are here to support them through these challenges and that we remain committed to working together through this tough transition period."