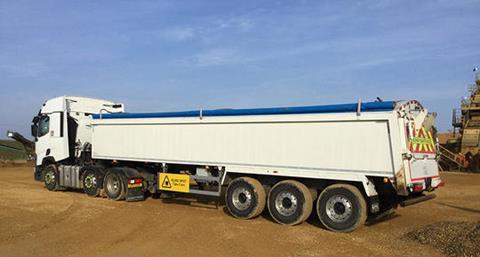 Tarmac's franchisee operators have accused the company of decimating businesses after it told them the premium rate for running walking floor trailers would no longer be paid.
Its insistence that firms start using non-tipping trailers was made several years ago on the grounds of health and safety, but Tarmac cushioned the expensive investment by paying hauliers using them at an enhanced rate of between 9-12%.
But operators said Tarmac has announced it is removing this rate – and as a result the used market has been flooded with trailers that companies are reluctant to buy.
One franchisee operator told motortransport.co.uk he was forced to consider either investing in more equipment, or making drivers redundant: "The value of walking floor trailers has plummeted," he said.
"Tarmac said, get rid of them and buy a tipping trailer, but we have no money to buy them, because no-one wants to buy the non-tipping trailers. They are deemed worthless.
"Hauliers did exactly what Tarmac wanted and now they have turned around and kicked us in the teeth," he added.
"They are gambling with people's lives and jobs."
Another operator said it had tried convincing Tarmac to gradually remove the expensive trailers, rather than hitting everyone in one go: "It's such a huge investment," he explained. "We are two years into paying for a piece of kit financed over five or six years. The losses are huge!
"Tarmac has been such a big user of [walking floor trailers] that the industry is now flooded with them for sale, which is crashing the market.
Read more
"We asked Tarmac to phase them out instead, then you are not flooding the market with walking floors that nobody wants and we will all have a hope of not losing that much money on them.
"We are looking at around £20,000 loss per trailer."
The operator added: "You can make a commercial decision but you can't make a knee-jerk decision that has such a huge financial impact for those that do the work for you.
"It could be disastrous."
A third company agreed that the walking floor market had "absolutely slumped."
It said: "Hauliers owe more than the value they are now - and that's down to Tarmac."
Tarmac was asked to respond to operators' concerns, but a spokeswoman said it was unable to comment on commercial arrangements with its suppliers.
However, the spokeswoman added: "We remain committed to maintaining an open conversation with independent contract hauliers operating on behalf of Tarmac regarding all aspects of working with us.
"We appreciate the ongoing commitment of our independent contract hauliers to Tarmac and would encourage them to raise any queries with their local transport account manager."