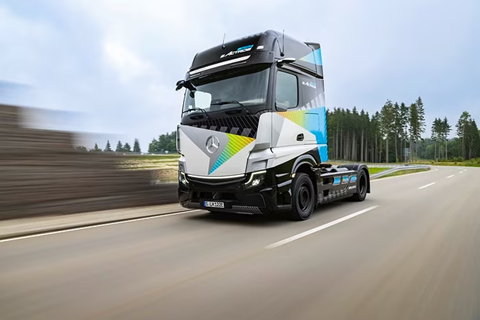 Mercedes-Benz will launch its eActros 600 long-distance electric truck on October 10.
The battery-powered zero-tailpipe-emission truck, which was first unveiled as a concept prototype at last year's IAA Transportation Show, was initially known as the eActros LongHaul. Its new name is derived from the battery capacity in kWh, just like its eActros 300/400 distribution trucks.
The truck will be equipped with three 200kWh lithium-iron phosphate (LFP) battery packs, which will power twin electric motors, producing a continuous output of 400kW as well as a peak output of over 600kW. It will also feature a new e-axle, which was developed specifically for the long-distance truck. Mercedes claims that the eActros 600 has a maximum range of 310 miles, and is capable of being charged from 20% to 80% in under 30 minutes at a charging station with an output of about 1MW.
The cab is likely to be different to a regular Actros, featuring design elements from the LongHaul prototype. The interior will also be modified, and exclusive to the eAtros 600.
Available as a 4x2 tractor or rigid, it will be produced on the existing assembly line at the Wörth production plant, alongside the diesel-powered Actros.
Karin Rådström, CEO Mercedes-Benz Trucks said: "The eActros 600, produced in Wörth, is able to replace the majority of diesel trucks in the important long-haul segment, as it sets new standards in terms of cost-effectiveness for our customers. It also offers huge potential for reducing CO2 emissions. I am convinced that this truck will define the new benchmark in road freight transport."
The eActros 600 is designed so that the vehicle and its components meet the same durability requirements as a comparable conventional heavy long-distance Actros. That means 1.2 million km on the road over a period of 10 years. Series production of the e-truck is planned for 2024.