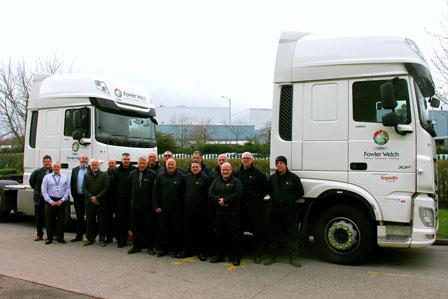 A renewed focus on training all of its drivers whatever their employment status has paid off in several important ways for Fowler Welch, as well as delivering the MT Training Award in 2020.
Action was needed to address an increase in collision rates at Fowler Welch – and its thorough response resulted in it winning a well-deserved MT Training Award.
With the rising number of collisions, damage costs had also escalated, while minor infringement levels had increased and the company felt fuel consumption could be improved.
In response, the firm increased its focus on its people, fleet strategy and technology. This led to an investment in both the size and scope of its driver development team; an overhaul of its replacement programme and procurement strategy; and an upgrade of its telematics.
Fowler Welch employs around 650 drivers across its sites and says various factors caused the rise in collisions back in 2018, mainly during slow speed manoeuvring. It does not attribute the historic issues solely to its use of agency drivers, but recognised the need to give that temporary resource pool the same level of training as employed drivers.
"We started by introducing targeted safety campaigns to focus on the main root causes," says CEO John Kerrigan. "Sadly, going back a few years we also had a couple of more serious collisions, which, in addition to the high volume of smaller incidents, triggered our recognition of the need to introduce a step-change in our approach.
"We will always want and need a percentage of temporary resource to cope with our volatile volumes and we do not see this as a negative, as long as we spend time on the induction and onboarding of these drivers."
It is also growing its driver workforce by training up more inexperienced drivers, most of whom are far more receptive and loyal to the company as a result.
"We have previously managed a successful internal warehouse-to-wheels scheme and in more recent years a really successful apprenticeship scheme," says Kerrigan. "We do also employ newly qualified drivers and put them through a bespoke intensive training programme during their first month or so of employment.
"In this period, they are supported by our trainers and will partner up with our more experienced drivers in an onboarding process before going out alone. In our opinion, these freshly trained drivers with a positive appetite for a future career are a low risk if managed well at the start of their journey, and are vital for the industry going forward."
Individual, targeted training replaced a one-size-fits-all approach and encompassed in-house Driver CPC courses, user-specific post collision training, targeted remedial training and one-to-one practical training, all supplemented with safety campaigns and roadshows.
Fowler Welch employs permanent driver trainers, who cover all the sites 24/7 and are supported as needed by driver assessors, whose core role is driving when not supporting the Driver Development team.
Measuring success
In the month following the first targeted safety campaign, the firm saw a 28% reduction in collisions year-on-year and a drop in average monthly spend of almost £21,000; year-on-year reduction in spend exceeded £416,000 when the full-year benefits were measured.
As modern trucks get fitted with more and more driver safety aids, is there a danger that drivers get complacent and lose concentration?
"As part of our training, we encourage drivers to use these aids when appropriate, but stress that ultimately they are in control of the vehicle and there are occasions when they should not use some of them, for example on icy roads or in poor visibility," says Kerrigan. "We use outward facing cameras and these have helped in identifying causes of collisions and corrective training.
"Even when our drivers have not been at fault, it has helped to identify if we could have done anything different to avoid the collision. These aids and tools are used to support and educate, not to punish."
Fowler Welch, which is in the DVSA's Earned Recognition scheme, introduced telematics that monitors and reports individual driver styles and from this it was able to design a training programme that gets the best out of its equipment and drivers.
"We use Microlise for vehicle telematics and the Tachomaster DCRS system for infringement management and broader risk profiling," says Kerrigan. "After several years of investment and continuous improvement planning, we are now able to collate all telematics data including any collision information, harsh braking, over-speeding, penalty notices and even any internal or external feedback to enable us to see the full picture in terms of overall colleague performance. Then we tailor our training accordingly.
"We will always look to improve driver performance through training and education but ultimately, if the true risk indicators show no improvement, we will follow our internal disciplinary process.
"We generally find that drivers do not turn up and try to behave or perform badly; if they do, then we do not want them driving our vehicles anyway. We want to engage with our drivers, make life easier for them where we can, reward them for good behaviour and performance, and keep them motivated to stay with our business."
Introducing a Driver of the Year award helped get drivers on board and it became a "hotly contested battle" that helped raise standards and increase engagement levels. Not only that, but its driver incentive scheme focused on individual performance and made payments for achieving measured KPIs.
Change of focus
The scheme was overhauled, with the focus changed so that safe driving was recognised as a product of good behaviours, rather than accidents leading to punishment. Drivers classed as 'exemplary' receive additional payments and recognition; a benchmark that 118 Fowler Welch drivers reached in 2019 compared with just eight when the scheme began.
"The scheme is deliberately designed to use and reward metrics that cover driving style, which in turn will produce improvements in safety, fuel efficiency and compliance," explains Kerrigan. "While improved fuel consumption helps to fund the scheme, we do not use MPG as a metric for the specific reward, as MPG is impacted by many other factors.
"We did extensive trials before the scheme launched to ensure we chose the right metrics and rewarded those who were driving in the best and safest way regardless of the vehicle load, route, weather conditions, etc. We have had a really positive response to this, and our drivers are constantly reviewing their performance on their Microlise app, along with asking the trainers for advice on how to further improve.
"They appreciate the fact that we identify and reward good drivers and have defined what 'good' looks like for them."
Fuel benefits
While MPG is a by-product not the metric for reward, the benefits of the training were clear – fuel consumption improved to 9.8mpg from 9.43mpg and CO2 emissions fell by 10,000 tonnes. In addition, infringements of the working time directive and EU rules fell from 3.18% to 2.61%.
Fuel consumption has also been improved by introducing a more rigorous truck selection process.
"We have a mixed fleet with numerous marques, due to different operations in the main," says Kerrigan. "We carried out extensive and controlled fuel trials on the different marques through our procurement process, using the same route, same load, same driver, etc. We also take feedback from drivers through our local and national forums and also looked at proximity and reliability of service agents.
"We ensured we utilised the same telematics across the fleet and also invested in enhanced safety features, including cameras, consistently across the fleet."
The judges commended Fowler Welch's comprehensive training programme, which spanned risks such as mobile phone distractions, bridge strikes and driver fatigue. They were particularly impressed that its SafeDrive initiative did not just focus on its 650 permanent drivers, but also agency staff and self-employed drivers too.
Judges are always attracted to clarity of vision, clearly articulated with lots of detail on measurable outcomes – and Fowler Welch provided this is spades.
"I was delighted to collect the award on behalf of the whole business," says Kerrigan. "It was a big team event for our fleet, driver development, operational and SHEQ teams, who all delivered a real step-change to the business in terms of training our drivers. It was also a real boost for the drivers who were delighted to engage with us on the procurement side specifically."
Making sure Driver CPC training delivers more than a tick in the compliance box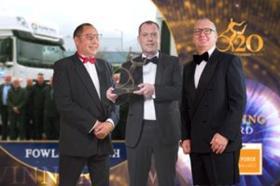 While completing 35 hours' approved Driver CPC (DCPC) training every five years is a legal requirement, Fowler Welch makes sure that it gets best value from its mandatory training, which is still taking place face to face in line with the temporary government safe working guidelines.
"We deliver all DCPC in classrooms currently, with reduced numbers of course," says Kerrigan. "We did register for online and have used that option a couple of times through the lockdown periods, but we felt the experience was very impersonal for both the drivers and the trainer.
"We use the DCPC as a training tool and ensure that as well as delivering the statutory aspects, we also focus on key risk areas and business/industry priorities and issues. We have invested in upskilling all of our driver trainers to ensure they can deliver the modules confidently and that they interact with the drivers to ensure all parties get value from it. Because we focus on driver safety and new legislation, all drivers, however experienced, can learn something new and benefit from the sessions, and the feedback we get is really positive."
The company makes its in-house DCPC training available to its regular agency drivers as it believes the training helps improve the standard of driving by all and generates a payback on the time invested.
"We make it available to our temporary colleagues as well, due to wanting to deliver the same message to all drivers that use our vehicles on the road," says Kerrigan. "If all those who drive for Fowler Welch, regardless of their employment status, are driving the right vehicles in the right way, that is all we can ask of them. I am confident that this message and culture will ensure less collisions, less damage, improved performance and a more engaged workforce."