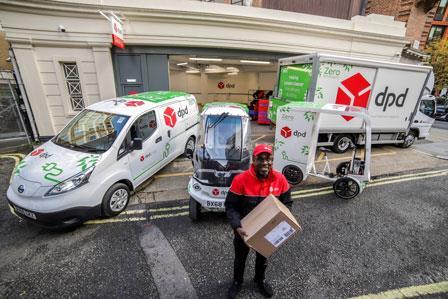 In line with its wider urban delivery strategy, parcels firm DPD is aiming to build an all-electric fleet in "double-quick" time. By the end of 2020 it planned for more than 600 vehicles, around 10% of its fleet, to be fully electric – up from 147 by the end of 2019. The total EV fleet is now 730 vehicles.
To overcome the many barriers to achieving its ambition, the business has been innovative in its approach to securing new vehicles, with seven key models in operation or on order in 2020.
Largest of these was a pair of 7.5-tonne all-electric FUSO eCanters, which carry out 200 vehicle movements each week transporting goods into DPD's city centre mirco-depots for onward last-mile drops.
These are joined by more than 300 zero-emission vans, including Nissan e-NV200s, Peugeot ePartners, Mercedes eVitos and DPD's 'workhorse' 3.5-tonners in the guise of the new MAN eTGE, which joined the fleet in summer 2020.
So keen was DPD to transition its 3.5-tonne models, it even decided it would order left-hand-drive variants for conversion in the UK, rather than wait until right-hand-drive versions were available.
The right stuff
DPD has made no secret of its impatience with the slow pace of availability of right-hand-drive EVs from the major OEMs in the UK, something which some observers attribute to a desire by the manufacturers to maximise their investment in the development of low-emissions diesels. DPD has been a loyal buyer of Mercedes-Benz Sprinters for its diesel 3.5-tonne fleet and it is leaving its options open for the expansion of its electric van fleet.
"Given that only 34% of the world's population uses an RHD vehicle, we think that from a manufacturer point of view, it's more common-sense than conspiracy," says DPD head of CSR Olly Craughan, pictured. "The last 12 months have seen an increase in RHD vehicles coming to market. Our buying preferences are determined by how technologies are evolving and on feedback from our drivers."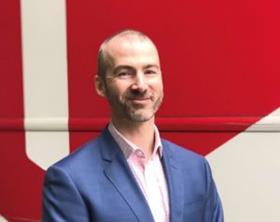 It also knew how important it was to use the right vehicles for last-mile drops in congested areas, opting for two UK-first EVs: Norwegian-built Paxster micro-vehicles, and a bespoke electric cargo bike developed in partnership with British start-up EAV.
The nimble Paxsters travel up to eight miles per day, delivering up to 137 parcels in a single charge in highly optimised routes around DPD's urban micro-depots.
"EVs are just as productive as diesels, or more so, provided they're on the right routes with the right parcels on board," says Craughan. "In practice, this usually means smaller parcels on a route with short stem mileage and high stop density. So an EV in London might make 250 stops on a 30-mile route and return to depot still partially charged. Another factor to consider is reliability. Our EVs have covered 6.1 million miles in the last 15 months and we've not had a single breakdown so far."
However, the process of importing the Paxsters was certainly not easy. Gaining government approval for the vehicles was a time-consuming affair, while the Paxsters also failed to qualify for the usual clean vehicle funding, making them a costly investment.
"We discovered the Paxster while researching vehicles already available in Europe and saw that it was performing well for Norwegian Post," explains Craughan. "It has more capacity than you might think at first glance."
Given the relative simplicity of electric vehicles, many operators question their high purchase price, which some also believe may be partly to discourage early adoption. The UK government has just caused huge controversy by reducing its plug-in EV grant, though it was never enough to entirely offset the higher purchase price and so make them cost-competitive with diesel.
"Any new tech is expensive to begin with – mobile phones, smart TVs, electric bikes," says Craughan. "But when economies of scale kick in, prices drop – we've seen this happening recently with batteries. Yes we qualify for the government grant, but early adoption is not all about costs; for DPD it's about doing the right thing for future generations, and given what's at stake we believe that's an investment worth making."
Thinking ahead
DPD's venture with EAV saw it unveil a new electric quadracycle, which the business says is the first delivery vehicle in the world that is simultaneously suitable for pedestrian zones, roads and cycle lanes.
"We developed the EAV because we felt that the existing two-wheel models on the market did not offer sufficient driver safety or security for our customers' parcels," says Craughan. "We prefer the stability of a quadracycle."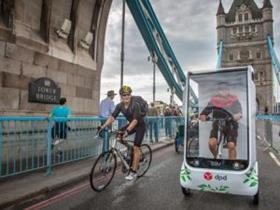 With careful planning, few if any of DPD's daily routes require mid-round charging, meaning they can handle a full round on a single overnight charge.
"Very rarely do drivers need to top up en route," says Craughan. "Our strategy is to promote home charging as the primary solution. However, we're also expanding our charging network at depots and believe that rapid public charging infrastructure needs to play a role in supporting drivers who don't have off-street parking."
To further support its transition to a fully electric fleet, DPD also focused on supporting its driver workforce to install home-charging technology. DPD provides them with £350 funding towards the charging stations and helps them access a further £350 from the government to adopt the technology. "Now 63% of our EV drivers have these stations," says Craughan. "Anyone with off-street parking can have one installed."
But DPD argues that developing a public EV charging network that would enable en route charging should be a shared responsibility. "We are lobbying government to work closely with transport operators," he says.
DPD has not encountered any resistance from drivers to the EV roll-out. "Our experience so far shows that drivers love EVs – they're automatic, quiet and easy to drive," says Craughan. "What's more, customers love seeing their parcels arrive on an all-electric vehicle, which means drivers get a warm welcome on the doorstep, so it's an all-round win-win."
So far, EVs have been limited in both capacity and range and no one has yet commercialised a heavy tractor unit suitable for trunking parcels between the hubs and depots. DPD is looking at alternatives to diesel for its trunking vehicles that usually haul double-deck trailers.
"We are trialling a 100% natural gas tractor unit – the Iveco Stralis 460NP," says Craughan. "It runs on biomethane from waste food and produces up to 80% less CO2 than diesel. It's also worth remembering that driver behaviour can make a positive impact on MPG and emissions and that's something we monitor closely, in order to maximise marginal gains."
DPD also wants to provide full transparency for its customers around its clean fleet strategy. As well as creating a website feed to show real-time CO2 savings from electric vehicle deliveries, it also sends each customer a carbon savings statement each year based on electric vehicle deliveries made on their behalf.
One of the original EV delivery pioneers Gnewt was recently snapped up by Menzies, but DPD is happy to plough its own furrow along with other parts of its French parent company La Poste. "Our growth strategy in the UK is organic rather than by acquisition," asserts Craughan. "But our electrification strategy does involve co-operation with other DPD business units, as the group has pan-European sustainability targets."
Spark of genius
Our judges were clearly impressed with DPD's commitment to electrification, saying: "They demonstrate a pioneering approach, trail-blazing and more importantly taking a leading position for clean vehicles in our industry – outstanding.
"They are not just leading the way, they are driving government and vehicle manufacturers to change and step up to delivering the results for our planet. They are pioneers."