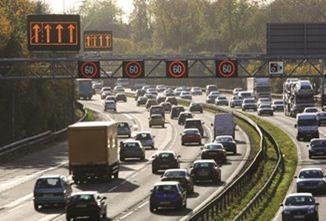 Highways England (HE) has been criticised by MPs for giving the impression that technology that spots broken down vehicles on smart motorways would be installed five years ago.
Giving evidence to the transport select committee (TSC), the roads agency admitted it hadn't been "as precise or as clear as we could have been" when it told the committee in 2016 smart vehicle detection (SVD) technology was being rolled out.
Earlier this year, transport secretary Grant Shapps said it was "entirely wrong" that smart motorways were being introduced without the right technology to help make them safe.
The controversial measure has raised concerns that they are less safe than conventional motorways, particularly as they often involve removing the hard shoulder and turning it into a live lane.
TSC chair Huw Merriman told chief highways engineer Mike Wilson he had misled the committee when he said in 2016 that he was confident in SVD and it would be "part of a standard roll out going forward".
Wilson said development work was needed and then a trial before the cameras started being fitted in 2018, but a visibly frustrated Merriman responded: "Oh, come on! I'm sorry, that's just not good enough.
"When you say 'going forward' it doesn't mean in two years' time!
Read more
"I think sometimes it's better to put your hands up and say, 'it turns out it's not the case because we had supply issues,' or something else. But to give me that answer is just not good enough for Parliament."
Transport minister Baroness Vere said it was "potentially a missed opportunity" to not have fully explained the timeline, but that they were now "proceeding at pace" with introducing all-lanes running and SVD.
"It should be said that all-lanes running motorways were designed to – and do – operate safely without [SVD]," she said.
"It sounds like there is a crisis of confidence in the safety of smart motorways and I absolutely dispute that.
"We know that smart motorways tend to be as safe, or safer than, conventional ones.
"That means that conventional ones are as safe, or less safe, than smart motorways."
Vere accepted that more needed to be done to convince the public of the strategy's safety and that re-introducing hard shoulders would impact safety.
"One in 12 fatalities happen on the hard shoulder and 90% of stops on a hard shoulder are not necessary," she added.