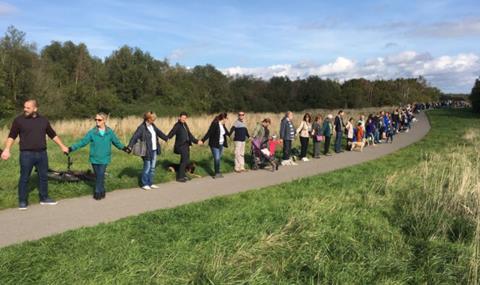 MPs and environmental groups are accusing Highways England of attempting to cover up minutes of stakeholder meetings and subvert the Freedom of Information (FOI) Act 2000.
They point to internal emails from Highways England, which the group have published today and can be found here that appear to show senior Highways England officials describing how the agency can "bypass the FOI process" in relation to the controversial A5036 Port of Liverpool access scheme that would demolish the 3.5km Rimrose Valley Country Park in Merseyside.
In the same email, in which Highways England officials describe their wishes for "closing down the FOI/EIR route for [Rimrose Valley Friends] in future", they outline how they do not want to supply the information to local MP Bill Esterson because of the "damaging effect that releasing the records is likely to have on our relationships" with the private companies partnered on the Rimrose Valley scheme.
Additionally, the emails describe how colleagues at Highways England deployed the same tactics in "Chichester" – referring to the controversial A27 Chichester Bypass scheme. This suggests an agency-wide cultural problem of poor transparency and obfuscation.
The emails were revealed after local MP, Bill Esterson, submitted an FOI asking for the minutes of meetings with private companies who are partnered with the Port of Liverpool access scheme, which lies in the parliamentary constituencies of Sefton Central and Bootle.
The FOI was rejected, and despite only one FOI request being submitted the agency branded Esterson and Peter Dowd, the MP for Bootle, in a letter as "vexatious", and making a "manifestly unreasonable" request – despite admitting that they "do hold information that is relevant to [the] request".
Bill Esterson, MP for Sefton Central, said: "The A5036 Port of Liverpool Access scheme is a breathtakingly destructive project that would tear a rift through a really important Merseyside country park.
"These emails show an outrageously arrogant attempt by Highways England to cover up a legitimate request for information through the Freedom of Information Act 2000.
"In merely carrying out our duty as a Member of Parliament, representing our constituents, we were met with obstacles to transparency at every turn.
"It speaks to an insidious cover-up culture at Highways England which must be investigated."
Peter Dowd, MP for Bootle, said the current plans will cause long-term damage to our environment, describing it as a "reckless proposal without thought for other reasonable alternatives".
He added: "Rather than actively trying to obstruct Bill Esterson MP and me in representing our constituents, they should act on their own aims by bringing a halt to this proposal which, amongst other things, will strip out the only significant green space in my constituency."
Stuart Bennett, Save Rimrose Valley Campaign Coordinator, said: "The emails revealed today show the contempt Highways England has for our community, as well as the lengths it will go to cover up what is really going on. They also reveal that Highways England clearly cares more about its relations with privately-owned stakeholders than those with the public."
"The Port of Liverpool access scheme would invite thousands more highly polluting HGVs and other vehicles into Merseyside and wreak untold damage on its countryside and wildlife. It must be stopped."
Crispin Truman, chief executive of the Campaign to Protect Rural England (CPRE), said: "Rimrose Valley is a green lung for many in Liverpool and a vital tool in the fight against the climate crisis.
"We are campaigning to protect it despite the hurdles and stumbling blocks put in our way by Highways England."
Craig Bennett, chief executive of The Wildlife Trusts, said it was "extraordinary" that Highways England was even considering building a dual-carriageway right along the length of the Rimrose Valley" describing the proposals as "an appalling affront on local communities, on nature, and any sort of suggestion that our society might try to 'build back better' after the pandemic crisis."
Responding, a Highways England spokesperson said: "We have acted appropriately when handling these FOIs. There is a defined route for complaints via the information commissioner.
"Highways England takes its legal and ethical responsibilities under the Freedom of Information legislation very seriously and is fully committed to the transparency agenda and meeting all the requirements of the FOI Act. As part of that commitment we are working towards automatic publication of all FOI responses and exploring methods of publishing more of our data."
Highways England also provided the following background to the dispute:
• The emails Mr Esterson refers to were actually provided to him under an FOI application.
• No one at Highways England has the power to 'close down' or 'bypass' the FOI process although in limited circumstances, such as exceeding the cost limit or dealing with vexatious inquiries, the legislation does permit requests to be refused. Where a request can be refused, such as on the grounds of cost, we will work with the requestor to refine it and advise what information will be available within the cost limit.
• Our Port of Liverpool team has worked hard over several years to engage with local people about the improvement project – we are open to discussions with anybody with an interest in the project and any concerns such as these. We recently met with Peter Dowd MP and Bill Esterson MP to discuss the scheme and there is also an open invitation to our regular Parliamentary surgeries run in the North West. These meetings are an opportunity for MPs in the region to meet our senior leadership team and raise any concerns or issues relating to the strategic road network.