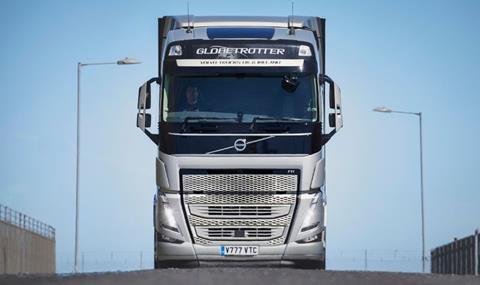 Maritime Transport has placed an order for 275 Volvo FH with I-Save tractor units, becoming one of the largest operators of the models in the UK.
The major investment in the next generation trucks follows a recent order by the Felixstowe-based company for 50 previous generation FH with I-Save units, which Maritime said had now become its most fuel efficient 44-tonners.
Paul Heyhoe, Maritime Transport fleet director, said: "We have had 40 on the road for a few weeks now, and they are performing really well; going further on a full tank than any other 6x2 tractors on the fleet.
"The final ten will enter service this month, and then all eyes will be on the new models arriving later this year."
Read more
Volvo Trucks' product development team made software updates on the next generation FHs, which it said provided additional fuel savings.
A more aerodynamic design and improved map-based I-See technology also help boost performance.
Volvo said tests showed the new FH with I-Save delivers 10% savings compared to a standard FH with a 13-litre Euro VI engine.
Maritime's executive chairman, John Williams, added that it operated one of the youngest fleets in the industry through its policy of continuous investment in new vehicles, driving down emissions.
Maritime's order coincides with production commencing this month in Gothenburg and Ghent, with the first right-hand drive models arriving into the UK later this month.