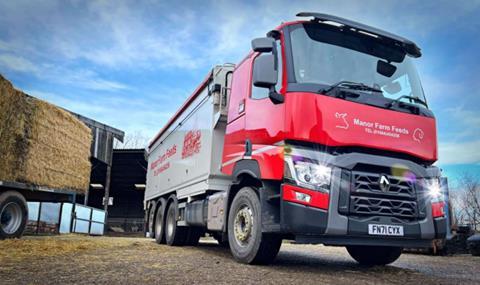 Manor Farm Feeds is expanding its fleet with two new Renault Range C430 8x4 Tridem trucks from RH Commercial Vehicles (RHCV).
The family firm said it had chosen the trucks for their high specification. One will be used to replace an existing vehicle, with the other boosting overall fleet numbers.
Manor Farm Feeds MD, Jonathan Bland, said: "Historically, our fleet comprised Volvo and DAF vehicles, but with more choice coming into the market, we were open to other makes.
"For us, making the switch to the latest Renault Trucks after around 15 years was about the product itself. We liked the look and design of the vehicles and felt what they had to offer met our needs as a business.
"Our drivers are pleased with the new trucks, and the RHCV team has been extremely responsive to our needs."
"This is especially important to us because we are all about delivering a reliable and personal service to our own customers. That's at the heart of our own business ethos, so it is good to see these values are also reflected in RHCV's approach to customer care."
Nigel Baxter, RHCV MD, said: "We're always delighted to welcome new customers onto the books, and Manor Farm Feeds is no exception. Our Renault products really appeal to a wide range of customers, because they are durable, innovative, and highly adaptable, meeting all transport needs and sector requirements.
"Pairing these fantastic products up with RHCV's aftercare package means we can continue to be responsive, offering the very best support for our customers as they go about their commercial operations."
The East Midlands-based firm employs a team of 140 staff and has invested £70,000 in its Cossington site in Leicester, which the company said this week has stimulated growth across the customer base in all sectors including agriculture.
The company has also expanded into Northamptonshire, broadened its offer with Isuzu in 2020, and opened a brand new £3.5m facility in Nottingham, as well as at new sites at Newark in North Nottinghamshire and Peterborough.