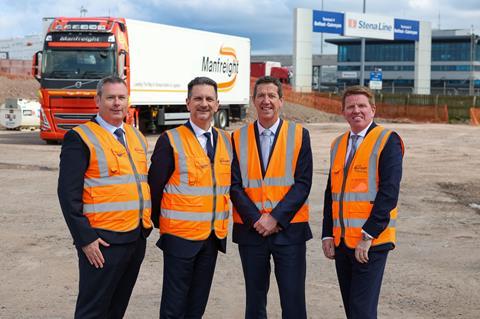 International transport firm Manfreight has leased a new £9m warehouse from Belfast Harbour beside the port's RoRo ferry terminals.
The 50,000 sq ft warehouse is the first in Northern Ireland to be constructed to BREEAM 'Excellent' environmental standards and will service agri-food producers and retailers for both import and export trading.
It was described by Manfreight as "an important strategic step" as it aims to meet its customers' growing needs for sustainable and digitised warehousing solutions.
Manfreight MD Chris Slowey said: "This port-centric warehouse solution will allow us to store, cross dock and distribute products in a temperature-controlled eco-friendly environment. We will also be able to further enhance our fully automated customs solutions for the import and export of these goods, making our supply chain processes more streamlined and efficient for all of our customers."
Michael Robinson, port director at Belfast Harbour, added: "Over the past decade, we have seen requirements change in the logistics market, with occupiers requiring more modern, energy efficient facilities and this site presented an opportunity to construct an occupier-led, purpose-built warehouse in an ideal location within the harbour estate close to our main ferry terminals."