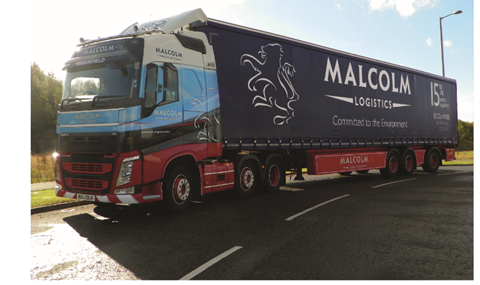 The Malcolm Group is planning to boost its fleet of longer semi-trailers (LSTs) as the government gives the green light to their widespread use on Britain's roads.
The company has put in an order for 63 LST licences as the DfT moves to bring the long-running trial of over 2,600 of the vehicles to an early end following positive results.
LSTs, which are two metres longer than conventional heavy goods vehicles, can carry two more rows of pallets or three more rows of goods cages on each journey.
Results from the trial to date (2012-2019), show the 2,600 LSTs have cut mileage by 33.5 million miles and CO2 by 48,000 tonnes, which is the equivalent to taking over 20,000 cars off the road.
The trailers were also involved in fewer personal injury collisions compared to standard size HGVs.
Malcolm Group was an early participant in the trial which delivered a number of benefits to the company.
Chief executive Andrew Malcolm told motortransport.co.uk: "The Malcolm Group were one of the first logistics companies in the UK to operate LSTs.
"Our key objective is to move more volume on less trucks. With ongoing challenges, road congestion and driver shortage coupled with the obvious environmental benefits these trailers have proved to be a valuable asset.
"To be able to move 15% more volume per journey supports this objective. As we have found during the initial eight years of trials the efficiencies of these trailers have worked in practice."
Malcolm added: "We applied for more licences at the end of last year and now have a further 63 on order.
"I would say the single biggest downfall of these was the administration on the reporting of all journeys done.
"We welcome the decision to confirm trials are complete and we can now plan our ongoing fleet investment with confidence."
Transport secretary Grant Shapps told MPs at a Transport Select Committee hearing in February that he had signed off the trial "to make it permanent".
The trial of 2,600 LSTs, which was set to run until 2027, became the subject of a DfT consultation last November after it delivered significant reductions in both mileage and emissions whilst boosting productivity.
The consultation, which closed last month, looked at whether the trial should be brought to an early end and LSTs be allowed to permanently operate on roads across the UK.