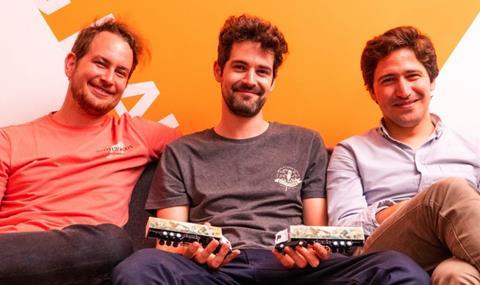 Spanish road freight transport start-up Trucksters registered a record €30m (£26.5m) annual revenue in 2022, a 300% rise on 2021.
The company, which expanded its service into the UK last year, uses a relay model using artificial intelligence (AI) and big data to deliver freight across Europe, reducing transit times by 50% - equivalent to air-transport times - whilst also allowing lorry drivers to spend more time at home by working shorter shifts.
The company, which targets large customers, attributes its success to its ability to use cutting edge technology to rapidly and reliably increase the size of its fleet to support higher demand.
To this end, in 2022, Trucksters managed to increase its fleet three times, overcoming important challenges such as the acute driver shortage.
Luis Bardají, co-founder of Trucksters welcomed the company's annual results, adding that "even in challenging times with problems such as the diesel crisis, and the war in Ukraine, we have managed to maintain a high level of growth".
"Our growth can be traced back to our team, its commitment and excellent performance. Hiring teams in record time, implementing cutting edge technology and consolidating complex processes for our clients whilst delivering a great service is not easy, but they made it happen," he added.
Trucksters said that as well as setting out to disrupt an "old-fashioned industry" it also wanted to make lorry-driving more attractive to a wider demographic.
As such, the company recently created a driver experience department devoted to improving the working conditions of drivers.
Read more
Its brief is to help drivers spend more quality time with their families and campaign for cleaner, safer and better serviced rest areas for the drivers.
Last year the company raised an €8m (£7.06m) extension to the company's Series A round, bringing it to a total of €14.3m (£12.62m).
Trucksters said this new investment is "clear proof of trust of current investors in the company and its future".
This support has enabled Trucksters to continue its international growth by expanding its team to nearly 100 employees. The operator is currently operating in the Netherlands, Germany, Belgium, Poland, UK, France and Spain.
The firm also announced the opening of its new corridor connecting the UK to continental Europe last year. This is Trucksters' first corridor outside the EU, linking Barcelona and Northern Spain to the UK in 28 – 34 hours, 50% faster than current transport times.
The operator has also announced plans to electrify long-haul transport and plans to become the first operator with a 100% electric long-haul route in 2023 using electric vehicles exclusively.
The company, which aims to become one of the first operators to meet the zero-emission target, will start by using several electric trucks at the beginning of 2023, and will increase the number of vehicles throughout the year. Truckster said it continues to work towards eliminating CO2 emissions completely.
Bardají said: "We have shown that we know how to grow and create value, but we believe we are capable of much more."
He added: "Have we done everything we can to help drivers? Have we done everything we can to help the environment? We see millions of opportunities that we have missed in 2022 and we want to act in 2023: electrification, process improvement and more driver-centric thinking."