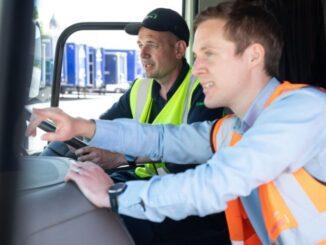 HGV training specialist HGVC has been appointed by four local councils to help address HGV driver shortages for local authorities across the country.
Brighton & Hove City Council, Eastleigh Borough Council, Adur & Worthing Council, and Worcester City Council have all appointed HGVC to provide Novice to Class 2 Skills Bootcamp training to more than 20 drivers combined over the coming months.
All four councils are facing a scarcity of ready-trained HGV drivers because of the current driver shortage and have opted to recruit and train new employees to fill this gap.
James Clifford, chief executive of HGVC, said: "HGV drivers play a crucial role in many of the important services that local councils provide. We know that many local authorities are facing difficulties sourcing ready-trained drivers, yet at the same time, don't have the resources to train drivers in-house. HGVC helps remove this headache for councils while reducing costs and getting drivers behind the wheel more quickly."
HGVC is providing a fully managed service, acting as a single source supplier, to centralise the training process and take candidates from a medical exam to practical driving training and testing.
Each council has been able to take advantage of the government-subsidised Skills Bootcamps for HGV driving. This has enabled employees to undertake HGV training with a selection of extra courses, at a reduced cost.
Once trained, the drivers will be allocated to the area of the council which requires the services of an HGV driver, such as transportation, road safety or waste services.