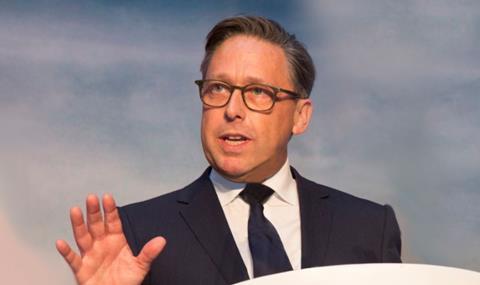 Richard Burnett's decision to resign as RHA chief executive has taken the industry by surprise and been greeted with dismay by many operators.
Burnett's departure, announced this week, follows a tumultuous year which has seen the RHA grapple with Brexit border issues in Northern Ireland, Covid-19 related supply chain problems and the HGV driver shortage crisis.
In October this year the RHA was also involved in a very public spat with the government after ministers banned the association from attending departmental meetings, accusing it of leaking confidential information which created the petrol pump crisis in October – an accusation it furiously denied.
The RHA confirmed today that former operations and commercial director Richard Smith has been promoted to RHA MD and will take the helm once Burnett leaves on 31 December, whilst the board considers RHA's "needs and requirements" going forward.
Smith brings years of experience in the haulage sector to the role, joining RHA in April 2017 after four years at Samworth Brothers where he held the role of operations director. His previous post was senior general manager at Wincanton, a position he held for almost ten years.
Rod McKenzie, RHA MD of policy and public affairs, denied claims that Burnett had stepped down because of the board's response to the dispute with government ministers during the petrol pump crisis.
"Richard spent seven years at the top and he is leaving because he wants a change," he said.
However, industry leaders responded to Burnett's resignation with disappointment this week with some linking his departure to the row with the government.
Pall-Ex Group chief executive Kevin Buchanan praised Burnett's performance and questioned whether the RHA board had given him enough support during the dispute.
Read more
Recalling an RHA meeting he attended in October at which Burnett spoke about the disagreement with government ministers, Buchanan said: "Richard Burnett appeared wounded by the run-in with government and perhaps that influenced his decision to resign.
"Perhaps he had had enough. Perhaps he did not get enough support from the board at that time. I know the board agreed to step back, to disengage and reach out to government in a few weeks' time. Was that enforced or was it an agreed strategy? Or maybe he found the corruption of this government a very unpalatable thing to deal with.
"What I do know is RHA had nothing to do with the leak and had evidence to prove that. The government punished RHA for hounding it on its performance over Brexit, Covid and the driver shortage. He was clearly a victim of the government's press machine and the spin and lies it put out.
He added: "He is a great loss to RHA. He was the best chief executive RHA has ever had. He was a tenacious, dignified and charismatic presence who gave RHA a voice it has never had before, taking it from an old boys' club and making it a truly representative body with a voice that government could not ignore."
Abbey Logistics chief executive Steve Granite praised Burnett for "transforming" RHA during his seven year tenure.
"He did a really good job for the sector, he was very vocal and got RHA in front of the right people, in front of politicians and the media. He made RHA into a much more modern organisation and that has reflected well on the industry. He was a good guy and I liked him."
Lesley O'Brien, director of Freightlink Europe also sang Burnett's praises. She said: "It was a pleasure to work alongside Richard Burnett. He worked tirelessly and passionately for the RHA and its members and will be hard to replace."
One operator likened him to Marmite, adding: "Whether you love Marmite or you hate it, there is no denying it is still a great product."
Another said: "Some people did not appreciate his strong opinions but a little bit of dictatorship can go a long way and I have seen too many companies and organisations go to the wall for lack of that strong leadership. So, yes, he was controversial but you have to crack a few eggs to make an omelette."