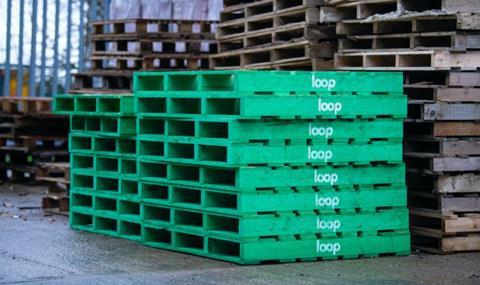 Construction firms are signing up to a charter committed to finding ways to reduce the consumption of single-use pallets.
The Pallet Loop aims to create a circular economy pallet scheme and switch the sector to a distribution model that works on the principles of recover, repair and reuse.
It said it wanted to eliminate avoidable waste by incentivising pallet returns via a cost-effective, deposit-based system.
Every year an estimated 18 million pallets are manufactured for the UK construction industry, with less than 10% currently reused.
Companies that have recently signed up to the charter include Marshalls, John Sisk & Son, Countryside, Tobermore and the Wolseley Group.
Sarah-Jane Davies, sustainability manager for the UK at John Sisk & Son Ltd, said: "The Pallet Loop supports our strategic objective to successfully embed circular economy principles into our operations by 2023, as part of our 2030 sustainability roadmap.
"At Sisk we fully endorse this circular economy model to encourage the reuse of pallets in the construction sector, moving away from the single use discard routine which has previously been adopted."
Phil Dent, chief executive at The Pallet Loop, said: "The last year has seen a tangible shift in the way we all think about the environment.
"Businesses and consumers now recognise what needs to be done to get climate change under control - and realise that it can't happen in isolation."