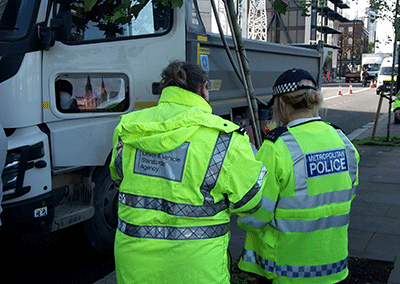 Up to 150 operators believed to be operating illegally in the London waste sector are to be targeted in a joint operation between the DVSA, Environment Agency (EA) and the Met Police.
The goal is to either put these serially non-compliant operators out of business or force them to run legally.
The DVSA and the EA have signed a memorandum of understanding (MOU) to work more closely together to put the spotlight on cowboy waste disposal operators.
While the EA is more concerned about the legality of the load, the DVSA, backed by the Met, is looking for vehicle defects' and drivers hours offences. Prosecutions can be led by the DVSA or police and the traffic commissioners will be informed of any offences.
The first in a series of roadside checks, held today on the Albert Embankment in London (12 September), marked the start of new agreement and saw a combined team of DVSA and EA inspectors assisted by police officers pull over around 20 tippers, skip lorries and other waste vehicles.
Russell Simmons, DVSA traffic enforcement manager, told MT: "The MOU allows both agencies to share intelligence and resources and will enable us to target illegal waste-carrying operators. The Met Police is also getting involved as part of the Industrial HGV Task Force.
"When we have carried out checks with the EA we discovered a lot of operators of common interest to both agencies."
Intelligence on cowboy operators is gathered from other hauliers and the public, though Simmons denied the MOU had been triggered by a rise in fly-tipping. The operators' OCRS is also a factor when targeting vehicles for spot checks.
"Roadside checks and visits to operator sites are both equally important," said Simmons. "A spot check will often lead to a site visit. We believe there are around 150 operators illegally carrying waste. We aim to either take them off the road or make them become compliant."
Another outcome of taking seriously non-compliant vehicles off the road should be an increase in cycle safety, as the DVSA believes that waste carriers are equally as risky as aggregate and other construction vehicles when it comes to vulnerable road users.
The agency sees the London mayor's proposed direct vision standard as a "positive step forward".