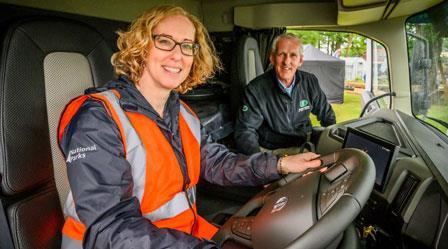 An electric timber truck being trialled by James Jones & Sons made its first appearance at the Royal Highland Show last week.
The 40-tonne artic is being used by the Stirlingshire headquartered haulier out of its sawmill in Lockerbie and will transport timber to its Hangingshaws national distribution centre.
Lorna Slater MSP, minister for green skills, circular economy and biodiversity in the Scottish Government, stopped by at the show to find out more about the project and to see the new electric truck.
Along with Scotlog Haulage, James Jones & Sons is partnering with Volvo Group and Cleaner EV in a three year trial of electric timber trucks, which is being funded by Scottish Forestry.
The vehicles will be evaluated for their achievable mileage versus battery consumption, durability, viability and total cost of ownership.
A key element of the trial is that all the partners involved are committed to sharing their experiences of running the electric lorries with others in the timber and rural haulage sectors.