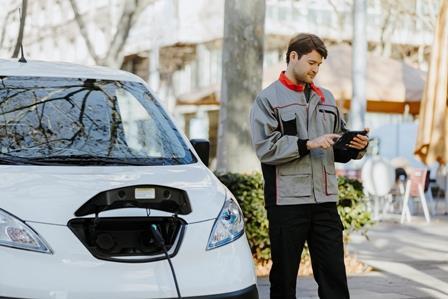 Renewed grant incentives for purchasing electric vans and trucks are likely to trigger increased interest among fleet buyers, but total cost of ownership (TCO) is key to widespread takeup, according to Webfleet Solutions.
Richard Parker, UK EV lead at the telematics firm, said the removal of the plug-in grant for car buyers in order to pivot funding towards new electric LCVs and trucks was a catalyst for wider conversations about the significant savings available over the whole life of commercial EVs.
Research by Webfleet Solutions and parent Bridgestone found half of fleet operators (53%) expect high energy prices, as well as another increase in the price cap on electricity in October, to dampen demand for EVs.
Bridgestone said TCO still favoured electric vans and cars, with parity for electric HGVs "anticipated within the next three years" and this needed to be taken into account despite soaring energy prices.
Parker said the majority of the LCV fleet in the UK is owned and run by SMEs and it was a challenge for them to invest in the time and resource to investigate TCO:
"The fleets are often managed by an FD, or someone in HR, not a fleet person," he added. "So you get a measurement of financial performance that can sometimes be binary."
However, Parker said the offer of grants of between 20% to 35% off the purchase price of vans and HGVs would prompt interest in fleet buyers, but then the hook should be TCO.
"It's about constant communication about this. If you are talking about money off, it gets people interested," he said. "The public announcements [of grants] may trigger people to start looking, that's possibly one outcome.
"If you haven't got time to calculate TCO then these headline figures may encourage people to start investigating."
The research also found that 68% of HGV operators surveyed are concerned about the cost impact of clean air zones.