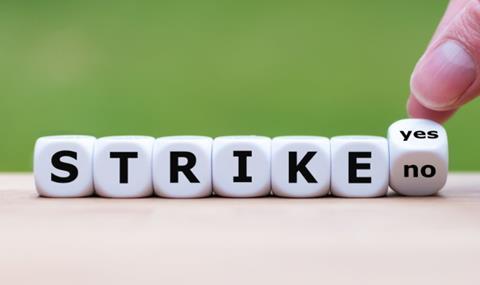 Doubts are growing that there is sufficient support for a national HGV drivers' strike for it to go ahead.
The threat of industrial action comes amid simmering resentment among drivers at wage levels and driver conditions and contempt for some of the bonuses supermarkets and logistics operators have been offering.
However, firm support for the strike on the Facebook site central to the proposals has been muted. One driver from Hull, who asked the group who would be supporting the strike, has received only 13 affirmative replies.
Another questioned why the Facebook site did not have more members when he said there are over 600,000 drivers in the UK.
"I want to know, do the other 596k not have social media or are they just happy with their jobs?"
Other social media sites reveal widespread doubt that drivers will be able to organise a successful strike without a union behind them.
One commentator on TruckNetUK said: "The industry is too fragmented and drivers only care about themselves. Just give up all this talk of strikes and unions. It is never going to happen. Ever."
Another responded: "The number is irrelevant. Drivers won't go through with it – when it comes to actually doing it, you'll be on your own and met with a barrage of excuses why they couldn't make it, have mortgages to pay etc."
Others, whilst supportive of action, warn it could result in a backlash. One driver said: "Go on strike now, take food off shelves and an unsympathetic government will call it a national emergency and import cheap drivers from all over. Make a point, yes, but don't alienate the public and give the government the authority to break a strike. This lot would be only too happy to have someone else to blame for their bad administration and we don't need to volunteer for that. We do need to keep the public on side."
Read more
The action, originally planned for 23 August, has been delayed as the Professional Drivers Protest Group, which is organising the strike, seeks to build support to 5,000 drivers. It currently has 3,800 members.
The group's Facebook site, recently badged as 'HGV Drivers on STRIKE United Kingdom', unveils a wide level of driver scepticism at the bonuses being offered by some companies.
Referring to one operator's offer of a £5,000 bonus for new drivers, one commentator on the site said he had been told by the company the hourly rate is £12 per hour on weekdays, £14 an hour for Saturday and £16 for a Sunday, with the £5,000 bonus in staggered payments and subject to tax.
"I said you won't get any drivers for that money and why should I drive for that money at £12ph for class 1. What a joke. And an insult for a professional driver," he added.
Another, referring to supermarket's offer of a £1,000 bonus to new drivers asked: "Why don't they just look after the drivers they've got?"
As companies scramble to raise wages to retain and attract drivers, some believe operators are offering too little too late. A waste truck driver whose company has offered to raise drivers wages to £13, up from £12.04, plus a £300 bonus said the union is now balloting for industrial action. "I have been with the company over 10 years and the pay has only gone up two quid an hour, no wonder they can't get drivers. They are even offering a £1,500 joining bonus for certain 'hotspot' depots."
Another driver responded: "£1,500 based on 48hrs is around £0.60p per hour extra a day. Is it worth taking a bonus without a pay rise?"
A former Class 1 driver, posting on LinkedIn said: "Managers in both the transport and manpower industries have for years used supply and demand mechanics to justify paying HGV drivers appalling wages. Now, after decades of having the whip hand - and abusing the situation, the supply and demand mechanism has swung the other way - the industry created this mess, and it's down to the industry to resolve it. There is no driver shortage, only a shortage of people who will work for the rates being offered."
He recalled that when he left driving in 2001, after seeing an advert for a seminar instructing attendees how to take advantage of the new, cheap European driver market, his pay was £15.50 an hour, plus paid breaks and £18.00 after 8pm.
He added: "If you apply the actual published rates of inflation to my old pay rates you get to a base rate or £33.30 an hour - yet hauliers 20 years later think £10 to £13 is an acceptable pay rate."