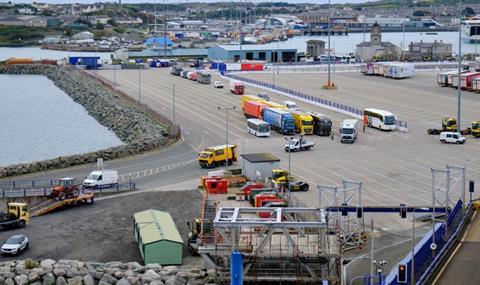 Hauliers are still facing serious issues travelling via Welsh ports to Ireland which is resulting in a major fall-off of trade through the ports, according to the RHA.
Rhys Williams, RHA regional operations manager for Wales, said: "There's a serious issue with HGV traffic transiting through the Welsh ports.
"I'm in regular dialogue with the Welsh government, who have also expressed their concern about the viability and future of the Welsh ports.
"It's not just Holyhead (pictured), but also the two south west Wales ports of Pembroke and Fishguard.
"On a recent meeting with the Welsh government and Welsh hauliers, one operator said he used to send 150 trailers a week from the UK to Ireland, through Welsh ports - since January he has shipped just five."
Williams said operators continue to face major issues with documentation, which exporters are still struggling to process. Some say it is taking between five and six hours.
Williams said the delays are forcing businesses to find other ways to export their goods. He pointed to a plant nursery in Wales which is now shipping via France, Belgium and the Netherlands to avoid Holyhead.
Seiont Nurseries in Caernarfon used to receive shipments from its Kilkenny supplier, via Holyhead port within 12 hours. Now Brexit red tape has forced the business to receive its orders via a four-day trip involving three EU countries and Britain, which has increased costs from £100 to £280 per trolley.
Until December last year Holyhead was the second busiest roll-on roll-off port in the UK after Dover with around 450,000 trucks a year going via the port to Dublin. However freight volumes have plunged by 50% since the end of the Brexit transition on 1 January, with the port's owner, Stena Line warning that the slump could be permanent.