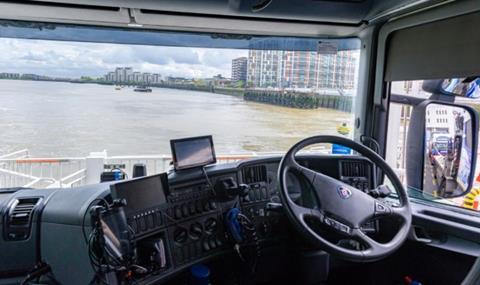 Hauliers using TfL's Woolwich Ferry to cross the Thames are facing severe disruption next month after ferry workers voted to ramp up industrial action with nine days of 24-hour strikes planned in July.
Hopes have been dashed that industrial relations on the free ferry would improve after TfL management took over the ferry operation from Briggs Marine Contractors in January this year.
Last week Unite accused TfL of victimising a shop steward carrying out legitimate trade union duties. Staff are also protesting at the failure to agree a new pay and reward scheme, the excessive use of agency staff, and the failure to provide adequate health and safety training to new employees.
Unite's 57 members have been taking strike action since mid-May, with further strike action planned today (21 June), tomorrow and 25 June. The nine, new 24-hour strikes are scheduled for 2, 5, 9, 12, 16, 19, 23, 26 and 30 July. TfL is advising passengers to use alternative crossings at Dartford, Blackwall and Rotherhithe, subject to some vehicle restrictions.
The Woolwich ferry operates two boats and connects Woolwich to North Woolwich. Before the pandemic struck in January 2020 around 20,000 vehicles a week were using the free service across the Thames.
Unite is now calling on London Mayor Sadiq Khan to intervene. Unite regional officer Onay Kasab called for Khan to use his influence to 'bang heads together' at TfL and get the dispute resolved or see increasing disruption to businesses and commuters.
He added: "The dispute centres on the victimisation of two accredited Unite reps. One of our reps has just received a written warning – this time for carrying out legitimate trade union duties when representing workers in a dispute about duties and job descriptions. As a result, we are announcing nine new 24-hour strikes in July.
"On pay, we are proposing incorporating as many of the contentious payments and enhancements as possible into basic pay. It is a scandal that basic pay is so low, meaning that workers have to work huge amounts of overtime to earn a decent wage. This, in turn, has huge fatigue and safety implications.
"The current TfL management didn't know what Briggs Marine was paying the employees. All the relevant information, which should have been handed all over in January, wasn't. This has now come to light and is one of the reasons why there is this dispute. It's another example of the chaos caused when services for the public good are privatised.
"Our members are as determined as they were when strike action started on 14 May. Now the chickens have come home to roost. TfL tells us that it is all the fault of the previous contractors. We don't care whose fault it is – our message is that our members will not pay for the mistakes of others."
A TfL spokesperson said: "We have reached out numerous times to Unite about their concerns, and urge them to call off their proposed strike action and instead work with us to resolve this issue."
TfL confirmed the service will not on the days of strike action but those in vehicles will be able to use alternative crossings at Dartford, Blackwall and Rotherhithe, subject to some restrictions.