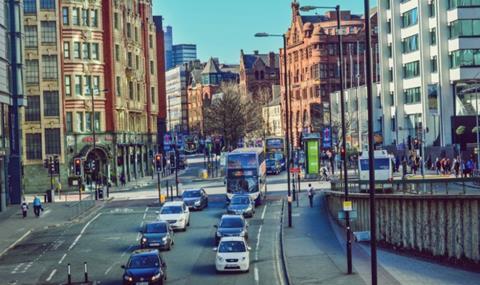 Funding to help local hauliers upgrade their fleets to meet Greater Manchester's Clean Air Zone (CAZ) requirements has been almost tripled to £12,000.
Local operators will be able to apply for the support, up from an original proposal of just over £4,000, which they can use towards purchasing Euro-6 trucks which meet the Greater Manchester CAZ requirements.
Hauliers will also be given more time to upgrade their fleets, according to the city's Clean Air Plan, published today (21 June). In addition, vans will be able to access up to £4,500 towards the replacement of a vehicle, £1,000 more than first proposed.
The funding is part of an £87.9m fund for vans, HGVs, coaches and minibuses and applications for funding support will open from November this year.
The decision to boost funding comes less than a year before the Greater Manchester CAZ launches on 30 May 2022 and follows a consultation on the impact of the CAZ and Covid-19 on local businesses. It will see local hauliers given more time, money and options to upgrade.
Read more
Announcing the plan, Greater Manchester Combined Authority (GMCA) said it has secured a total of 120m in government funding to support local businesses upgrade to cleaner, compliant vehicles so they can travel in the Clean Air Zone without incurring a daily charge.
It added that the additional funding for hauliers and other local businesses "is essential to support impacted vehicle owners to upgrade, while facing the economic impact of the COVID-19 pandemic".
Mayor of Greater Manchester, Andy Burnham, said: "Greater Manchester were the pioneers of the industrial revolution, now we are leading a green revolution, backed with over £120m that we've secured to hand over to businesses to support making their vehicles compliant.
He added: "We listened hard to what business owners wanted," adding that the council had fought for increased funding to protect "those most vulnerable as well as our trade and businesses".
"This plan will also have major health and wellbeing benefits for people living near motorways or major roads as there will be less polluting vehicles and HGVs using them," Burnham added.