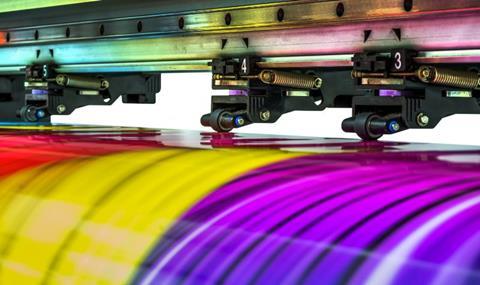 A curtainsider graphics firm has invested £750,000 in a nine-colour LED printer to keep it at the forefront of the growing market for liveries on trailer curtains.
Sapphire Curtains and Graphics said its new EFI VUTEk Q3r UV LED printer had improved efficiency and increased throughput by 700%.
The equipment can print white onto a range of surfaces, a feature not available on older, solvent-based printers.
Mark Wayman, Sapphire GM, said: "White used to be just an omission of any colour print so you used to rely on the brightness of the material you were printing onto.
"As soon as the print material started to darken, so too did the brightness of the imagery. The new printer actually prints white as part of the colour set so you always get bright, high intensity colours on any colour background; even metallics."
The firm said the LED printer can also print at a rate of 14 curtain sets per day with no extra drying time and it now processes printed trailer curtain orders in one day compared to the previous three to four day turnover.
Sapphire added that it can also offer clearcoating, a process of applying a protective film over the printed surface, as part of the printing process – which has further reduced processing time.
"Years ago, it was just plain curtains but everyone wants livery on their curtainsiders and not just the back doors now," said Wayman.
"A good 90% of my production is livery on curtainsiders. Nothing plain really goes out the door now."