World foods supplier Grace Foods UK (GFUK) held its first Cycle Truck Awareness event at its HQ in Welwyn Garden City earlier this month.
The company invited adult and junior members from local cycling club Welwyn Wheelers to partake in a road safety exercise highlighting the dangers of cycling around HGVs.
Cyclists were encouraged by drivers to climb into their lorry cabs and get a driver's eye view of the variety of blind spots and dangers that can influence cycle safety.
Drivers also highlighted a number safety features on the company's trucks such as four-camera CCTV and audio warning systems fitted.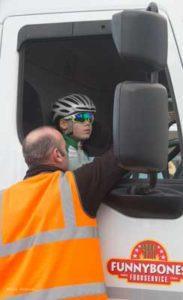 "Many of the cycling club members were amazed at the number of blind spots and how these became visible once the camera systems were enabled," said GFUK transport manager Russell Avery.
He believes continuous training for cyclists and drivers is the best way to reduce cycle fatalities and accidents involving HGVs.
A Fors bronze-level member, the company runs its own fleet of 12 vehicles ranging from 3.5-tonnes up to 26 tonnes undertaking temperature-controlled deliveries of Tex-Mex food products for its Funnybones Foodservice business.
Prior to this latest safety event, it ensured its driver workforce was aware of the challenges faced by cyclists in urban areas by putting them through a Fors-funded Driver CPC module that included riding bikes around the streets of north London.
"This was a valuable lesson for their driver team as Saturday's experience was for the cyclists," said Avery.
He added that both parties will look to repeat the event again for future club members.