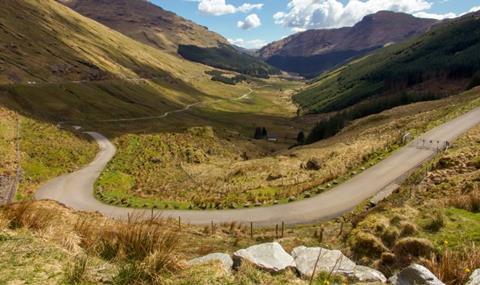 Business leaders in Scotland are demanding the government commits to fixing a notorious stretch of road on the A83 plagued by major landslips.
The road, near the Rest and Be Thankful in the Highlands, is a key transport artery that provides vital links to communities across Argyll and Bute and connects the area to the rest of Scotland.
Last year the road was closed for more than 200 days, which the campaign group said was a "record-breaking 300% increase" compared to 2019 and demonstrated that mitigation measures were not working.
The government has committed to a 10-year recovery plan, however the group is demanding it is completed by 2024 instead.
John Gurr, chairman of The Rest and Be Thankful Campaign, said: "The lack of interest in seriously fixing this stretch of road by the Scottish government is hugely disappointing and is having a direct impact on our communities, local economy and business opportunities both now and in the future."
Matthew Mundell, operations manager at B Mundell Haulage, which has depots in Tarbert, Islay and Glasgow, said it was "baffling" why the government was not taking landslides and slips seriously: "The level of debris recorded last year was 20,000 tonnes, up 15,000 tonnes from 2019, this is expected to increase to a dangerous 100,000 tonnes," he said.
"Immediate action is required now, not in 10 years."
Transport Scotland said it was committed to looking at short- and medium-term measures to improve the resilience of the route, in tandem with work to identify a permanent solution.
A Transport Scotland spokesman said: "More than £15m has been invested in landslide mitigation work to date, and engineers are developing a programme for further measures to help bolster the resilience of this section of the hillside in the coming financial year.
"Our operating company, BEAR Scotland, will also continue to monitor and patrol the area in response to forecast conditions, as part of their landslide response plans.
"In the longer term, the Cabinet Secretary has instructed officials to accelerate work to consider alternative infrastructure options for the A83," the spokesman added.
"Eleven corridor options were presented to the public last year with a preferred corridor expected to be identified this spring."