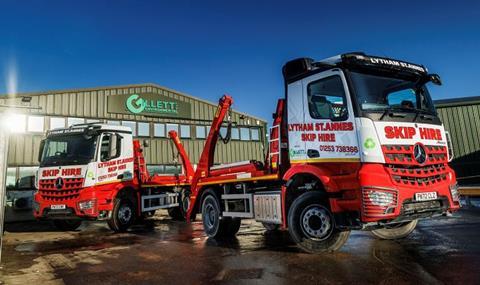 Lancashire-based waste management specialist Gillett Environmental has commissioned the first two trucks from a batch of six Mercedes-Benz skiploaders, following a successful trial.
The company, which trades locally as Lytham St Annes Skip Hire, sourced the Arocs 18-tonners from Ciceley Commercials, which will also supply aftersales back up.
The six Arocs are 1824 variants which come with ClassicSpace M-cabs and twin-screen Multimedia Cockpit dashboards.
The trucks have a 7.7-litre in-line six-cylinder engine which produces 175 kW (238 hp) and eight-speed Mercedes PowerShift 3 automated manual transmissions.
The Arocs' skiploading gear is being supplied and fitted by Stretford firm Hyva UK. In addition four of the six Arocs also come with MirrorCam.
Director Joe Gillett said: "Prior to placing our order we trialled one of Ciceley Commercials' demonstration units for a couple of weeks and gave it to one of our longest-serving drivers, who loved the Arocs and was very positive about MirrorCam.
"He was pleasantly surprised at the level of enhanced visibility, as well as the reduced fatigue he felt after a day's work in the truck."
The new additions will join a fleet of 14 other trucks, most of which are Mercedes Benz. The fleet is largely composed of 18-tonne skiploaders but also includes three 32-tonne hookloaders and two 7.5-tonners.
One of the smaller vehicles – an 814 model first registered in 1995 – is something of an heirloom for the family firm.
Gillett said: "That truck's been brilliant. We've had it reupholstered and repainted, and it still sails through its MOT every year.
He added: "Their exceptional reliability and durability go a long way towards explaining why we've favoured Mercedes-Benz trucks over the years, and still do so to this day.
"When issues have cropped up, which you'll always get with even the best trucks if you work them hard enough, they've always been relatively minor and less expensive to resolve than those we've experienced with other brands."