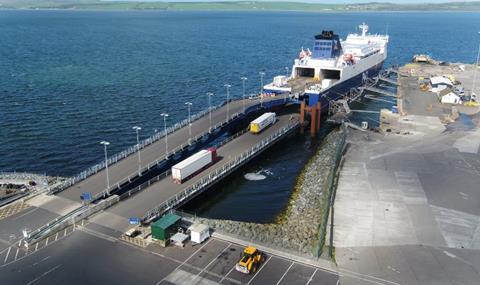 Hauliers will lose out on trade between Britain and Northern Ireland if the government does not move swiftly to ease border friction, Logistics UK director of policy Elizabeth de Jong told MPs this week.
The warning comes after one in four lorries arriving at Holyhead last week were held up due to inadequate paperwork and some businesses announced they were pausing their deliveries to Northern Ireland.
Giving evidence to the House of Commons Treasury Select Committee this week, De Jong said one problem was a lack of awareness among hauliers and shippers of the paperwork needed to make the crossing to Northern Ireland at Holyhead.
She said: "There has been generally a higher lack of awareness in businesses – the exporters and importers – that border-like administration is required for Great Britain and Northern Ireland, even though a border does not officially exist.
"The main messages were about there not being a border, but in fact you still need to do border-like administration."
She added: "Last week about 25% of lorries arriving at Holyhead, slightly more at Stranraer, didn't have the right documentation.
"Information was received late and in piecemeal form but it's not systems issues," she told the Treasury Committee.
Read more
"A number of companies have paused because they've realised that their understanding of the systems or preparation for the systems or what they thought they needed to do hasn't allowed them to transport things as easily as they might have thought."
However de Jong said she was hopeful the pause is temporary. "I'm hoping they'll soon become confident. We may need a little more of this trial period before they do become confident.
"One of the concerns if we can't address the friction is that companies in Great Britain will lose out if we don't address this and we don't get everything working quickly to Republic of Ireland companies or more locally sourced produce as well," she said.
De Jong said there were more delays at depots than at ports, as hauliers picking up loads discovered insufficient paperwork to make the crossing.
She said the Kent border access permit, which hauliers need to travel to Dover, had also played a part in limiting delays at the Channel port.
"The Kent access permit, we suspect, is working quite well in that it was designed partly to reduce flows into Kent where paperwork for the border was not yet ready. People are accessing Kent when they have self-declared they have the paperwork.
She added: "Currently the biggest reason for not being able to make your crossing is not having a negative Covid test and being sent away to get one."