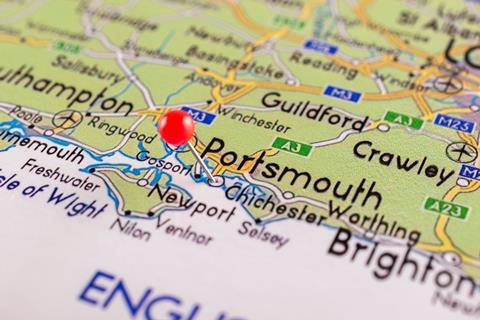 Portsmouth City Council has this week gone live with its Clean Air Zone (CAZ), which will see non-compliant HGVs (older than Euro-6 diesel) paying a £50 per day fine to enter.
The category B CAZ - which applies to lorries, buses, coaches, taxis and private hire vehicles - is around three square kilometres and located to the south-west of the city.
Portsmouth is one of several towns and cities across the UK given a mandate by central government to improve air quality within the shortest time frame possible.
Speaking to delegates at last week's Freight in the City webinar on the launch of the CAZ, Hayley Trower, air quality improvement manager, transport, environment and business at Portsmouth City Council explained that the city has five main air quality management areas, as well as numerous congestion pinch-points on the city's narrow roads.
Despite the council carrying out extensive modelling of non-charging pollution-busting options, a charging CAZ was shown to be the only effective method to achieve air quality legal levels in the required time.
"You can see the zone will cover a small area in the city centre of Portsmouth. We've tried to make it as small as possible without causing traffic to reroute elsewhere," Trower said.
Helping hand
To support businesses needing to update their fleets, Portsmouth City Council has been allocated grant funding to enable operators to replace or retrofit their vehicles.
The Clean Air Fund can provide operators with up to £16,000 per vehicle, explained Stanley Palmer, air quality engagement officer HGVs, Portsmouth clean air zone, regeneration directorate at Portsmouth City Council, who has been working closely with local businesses to help them access the grants.
Funding is allocated by using a scoring system taking into account things such as proximity to the zone, how many times vehicles need to enter, company turnover and so on.
The council's original 50 grants were all successfully shared with industry, but due to demand, a further 20 were obtained from JAQU (the government's joint air quality unit), with some still available for eligible operators.
"So if you believe you may be affected by the clean air zone and you're a frequent user and may struggle to replace your vehicles, it is worth applying," said Palmer. "But there are only a couple left. So it's definitely worth getting in quickly. And with as much evidence as possible [such as proof of frequency of trips]."
As well as helping support smaller operators to comply with the rules, Portsmouth has also been working closely with large operators such as Royal Mail and DHL to help them route their Euro-6 vehicles on any CAZ-affected roads.
Beyond the CAZ, Portsmouth is continuing to work on other air quality improvement initiatives, such as improving driver behaviour and anti-idling campaigns, alongside exploring options for consolidation and cleaner last-mile delivery options.
Fleet advice
Colin Smith, programme manager, freight and clean vehicle retrofit at the Energy Saving Trust, provided insight for operators watching the webinar about not only complying with the CAZ regulations, but also looking at the larger decarbonisation agenda for fleets.
"There are two sorts of emissions-related challenges within transport: one relates to fuel efficiency and greenhouse gases, the carbon dioxide aspect; but there is also the air quality impact of particulates and NOx.
"Some consider one to be longer term and one to be here, in the form of these clean air zones, ultra-low-emission zones and low-emission zones that are popping up. But in fact, they're both here. And now. And they are both commercial issues: if you reduce your fuel consumption, you'll save money; if you're running clean vehicles, you'll save money."
Retrofit is one option for CAZ compliance, said Smith. This has predominantly been used more by the bus sector to date, however there are now a number of HGV models approved under the Clean Vehicle Retrofit Accreditation Scheme. This option may be particularly useful to those operating very specialist kit that is expensive and complex to replace, or vehicles with a very long lifespan.
The Freight Portal was also relaunched earlier this year as a handy tool for operators to help decarbonise their fleet movements. Funded and supported by the DfT, it is run by the Energy Saving Trust and Zemo Partnership.
It contains information and guides on emissions-saving initiatives, as well as best-practice case studies. It also includes an interactive fuel cost-cutter system to help you see what different fleet decarbonisation options can do both in terms of reducing emissions and improving your bottom line.
Sustainable fleets
Head of sustainability at vehicle manufacturer Scania, Tanya Neech, spoke to delegates about the truck-maker's global strategy towards decarbonisation.
"Our approach when it comes to sustainable transport is based on three really important pillars: energy efficiency; renewable fuels/electrification; and smart and safe transport," Neech said.
Alongside this is Scania's commitment to be a responsible business on its sustainability journey, such as ensuring energy-efficient resources and manufacturing, diversity and inclusion, human rights and community engagement.
Initiatives the manufacturer has been working on include: the prototype of the autonomous NXT vehicle that is a bus by day and refuse collection truck by night; project work on electrifying roads to power trucks, both in Germany and in the UK; science-based targets to reduce CO2 in its operation by 50% by 2025, and in its products by 20% in the same time frame.
Neech pointed out that "there is no silver bullet" when it comes to tackling air quality or fleet decarbonisation, "but there are lots of things now that we can start to do to make a difference right now, today."
Scania has therefore ensured it has a full range of products available to support operators on their own fleet journeys, including its electric truck offering launched last September. This already includes a BEV and a Plug-in Hybrid for urban distribution at either 18 or 26 tonnes, with a new electric model due for launch every year.
Portsmouth International Port
With freight regularly traveling to the Portsmouth International Port, its marketing officer Gareth Colwell shared some of the sustainability initiatives underway there with webinar delegates.
These include a move to all-electric vans on its port-side fleet, solar power to harness energy, as well as plans being explored to locate a site for a potential 'pre-gate' facility on the outskirts of the city. This would include an HGV secure parking area with driver facilities, alongside a consolidation function to enable freight to travel through the city on cleaner vehicles, and possibly the ability to provide refuelling and recharging points for lorries.
The Freight in the City Portsmouth Clean Air Zone Webinar is available to view online free of charge, alongside copies of the presentations used during the event. You can also access past webinars around various topical urban freight challenges.