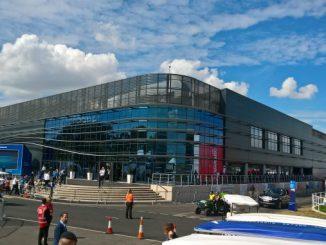 An electric road system (ERS) is the only viable future for long-haul HGVs, with hydrogen far too expensive, the director of the Centre for Sustainable Road Freight has told delegates at new transport and logistics event ITT Hub.
Speaking during this week's panel discussion at Farnborough International Exhibition and Conference Centre, David Cebon said: "Electric roads are the lowest cost system, the lowest carbon system and the highest readiness solution. Green hydrogen uses 3.5 times more energy, 3.5 times more carbon and is at least 3.5 times more expensive for operators to run - and it can't be rolled out by 2050 because of the massive demand for green electricity. Blue hydrogen has fatal flaws that make it a non-starter in the UK. Have a careful look at electric road systems, they're more ready to go than you think."
A fifth major demonstration of ERS was launched in Germany earlier this week, featuring technology that eliminates the need for a battery. Instead, electricity is sent from an overhead pantograph directly into the truck's motor.
"That gives you the most efficient vehicle you can run," Cebon said. "It gives you about 77kw hours at the wheel. That's pretty good. And when you want to travel off the motorway you drop the pantograph and drive on the battery."
Cebon's comments come amid growing frustration over long delays to the government's Transport Decarbonisation Plan (TDP), which operators hope will guide them on how best to reduce carbon emissions in their fleets.
The report is now expected later this month with senior industry figures telling MT during the conference that industry debates remain pointless without new government guidance.
Growing confusion over whether to switch to hydrogen or battery electric have left many hauliers with a 'wait and see' approach, preferring to avoid the potential costs of abandoning euro-6 diesel.
However, National Grid fleet manager Lorna McAtear said the time had come for hauliers to act: "Don't panic," she advised. "You've got so many things to pull together but have a plan. Go and ask someone who's already done it. If you can't quite get that vehicle today is there a stepping stone towards it?
"Don't panic about infrastructure. Technology is changing and these things are all coming out. As long as you have a plan and know that in 2025 you can actually take that vehicle then you don't need to worry about it today. Control what you can control today and plan for everything else going forward."
McAtear added that she wanted to see fully joined-up thinking from the Transport Decarbonisation Plan: "One of the things that's been very difficult for fleets to manage, especially national fleets, is consistency of approach," she said. "We're facing clean air zones, congestion zones and different technologies. We need consistency that allows us to do the future proofing and that gives us the confidence to make these expensive changes. It's a lot of money you're asking an operator to invest in and the last thing you want is a stranded asset."
Renault Trucks MD Carlos Rodrigues agreed: "Changing fleet is capital intensive," he said. "I would like to see a combination of a long-term strategy and incentives from government. The procurment process with these vehicles is 12-16 months. Customers are purchasing not just a truck but an energy solution to power their own business. It now needs to be a partnership. So I would recommend starting now because the more you wait the more you'll be behind the curve. There are companies already out there who will be ready to accelerate by 2025."
Zemo Partnership MD Andy Eastlake argued that the key to the current situation was not mass replacement but moving elements of your fleet forward. He also advised HGV operators to consult Zemo's online Freight Portal which provides further advice.
"It's really dependent on where you're at in your journey," he said. "See if you can challenge the decision you made on fuel a year ago and see if it's lower cost and lower energy. That's the key thing, not mass replacement. Going forward it will be about mobility and energy rather than just about a ship or a truck."
Cebon agreed: "Energy is the fundamental currency here, it's not carbon," he concluded. "Doing low carbon doesn't mean low energy. Low energy means low cost, low carbon means good economics and operational conditions.
"The most important thing is to remember that running an electric truck in an urban environment is a bit different. You have to manage the charging and the range of the vehicle so there's an effect on the logistics you run. It will change and everyone will have to get a grip on it. And also the maintenance with electric power trains."
He added that, in the urban environment, people "need to start shifting now".
"It's happening all over the place but with long haul it's more difficult," he admitted. "There is quite a shift to gas going on, and that does improve emissions quite a lot for long haul but isn't good for city centre operations. You can reduce 15% of greenhouse gas emissions by using CNG. If you use biomethane you can get 70% but it's not a solution everyone can use. There's not enough to go around.
"So possibly gas is an interim solution for long haul. But ultimately long haul will be electric. My bet is on electric roads. We should be electrifying everything - trucks, ferries and trains - where it can be. What we need is a clear plan of where we should and shouldn't be using fuels. We don't want biofuels in cars and trucks. We shouldn't be burning biofuels to make electricity. They should be reserved for hard to electrify transport, particularly ships and planes where it will be needed."