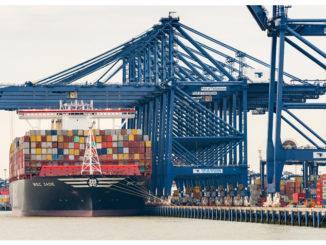 The recent strike action at Felixstowe port did not significantly disrupt supply chains because customers had managed to plan ahead, according to the port.
Workers at the container terminal downed tools in two lots of industrial action this year after union members rejected an imposed pay offer.
Negotiations have currently stalled, but speaking to MPs this week, the port's head of corporate affairs Paul Davey said the impact on the supply chain had been less than people expected.
He said: "I think there's probably two or three reasons for that.
"We consulted with our customers and the importers that use the port before the strike. Many of them either brought forward their shipments and collected containers early.
Read more
Container hauliers face another eight day strike at Felixstowe Port as talks fail
"Many people chose to delay the receipt of their goods and some people will have rerouted traffic through the other ports.
"The other thing is that over the last two, two and a half years, since covid, they have got used to handling disruption," Davey added.
"The sense we get from customers was that while the strike was not welcome, disruption was not welcome, they would deal with it like they dealt with every other disruption.
"They have dealt with the disruption without any significant impact on supply chains."
Unite regional officer Miles Hubbard told the transport select committee its members felt they had been handed a pay deal they couldn't live with and that the port now had no wish to resume talks: "We've made clear throughout we're ready to talk to them at every junction, this is a company awash with money," he said.
"There is a deal to be done without a doubt. If you look at the cost of settlement versus the cost of keeping it going, it just doesn't stack up."