Preston-based FDC Holdings celebrated its 25th anniversary in 2022 and describes itself as "one of Lancashire's premier freight transport companies". Specialising in palletised freight, it has been a member of The Pallet Network for 23 years and can provide nationwide collection and delivery of consignments from a single pallet to full trailer loads.
Ian Maudsley, pictured, took over as MD from current chairman Peter Allen in May this year after joining from RT Keedwell as business development and commercial manager in August 2014. Before his two years with Keedwell, Maudsley spent 23 years with East Lancashire Warehousing (EWL) and it is perhaps not surprising that in the last decade FDC has grown its warehousing capacity to almost 1 million sq ft across three sites in Lancashire, including its 330,000sq ft HQ in Walton Summit which it acquired in February 2015.
FDC's origins were in 1983 when Steve Allen bought a van and began distributing parcels, joined later by brother Peter when they purchased an ANC Franchise. They realised that pallet distribution was a more stable and profitable business and so began FDC in 1997. The letters originally stood for Freight Distribution Consultants when it was founded in Rough Hey Road, Preston with two trucks, two vans and 15 employees.
When Maudsley joined the company it was based at a 14-acre site at Moorland Gate Business Park in Chorley, turned over £6m a year and employed 40. By 2022 turnover had grown to almost £23m – probably putting it into the MT Top 100 this year - and staff numbers increased to 150 including 90 drivers.
As well as Walton Summit which FDC owns outright it now rents a 120,000sq ft site in Strand Road, Preston and a 500,000sq ft site in Blackpool.
"We are not a typical haulier and we never set out to be an A to B haulier," says Maudsley. "We are much more a contractual haulier and will invest in trucks, trailers, people and IT on the back of the right contract.
"We work in three main sectors, beverages, pharmaceutical products and ecommerce, so we have a nice spread. We look for organisations which operate 24/7 as that improves our margins. We don't run all the fleet seven days a week but a good percentage does run at nights and weekends, particularly into the big beverage filling halls.
"We also like customers who use all our facilities – warehousing, transport, pallet network and groupage. That's our class A customer as we are in control of the products from loading in to loading out."
Maudsley says that Christmas is not FDC's biggest peak and it is busiest on bank holidays, especially when they are back to back like they were in April and May this year.
"In six weeks we had four bank holidays," he says. "But like everybody the biggest impact is without doubt the weather and big sporting events. Get those two together and sales can be amazing."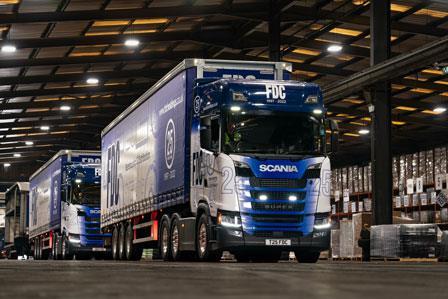 Brexit in 2020 caused a spike in demand for UK warehousing as importers sought to head off supply chain disruption, and the legacy is a continuing boom of spec development sheds especially in the Midlands.
"Before Brexit people were unsure, and new builds slowed down five years ago," says Maudsley. "Then people wanted more B grade space so that increased the capacity requirement for warehousing like ours. Then Brexit came and customers who were storing 500 pallets wanted to store 1,000 and that led to the big increase in demand.
"Then PPE came along and while that is easing down the warehousing market is still strong. It is peaking a little now; everyone wants to be near a motorway but you pay heavily for that.
"Our warehouses have been operating at full capacity for the last few years but we have some capacity appearing at our Blackpool site."
As a North West-based national haulier would FDC benefit from having a base further south?
"Yes and no," answers Maudsley. "We have looked at a few options and if there was an FDC somewhere else in the country we would buy it. Our operating model would lend itself to another depot but we haven't come across one yet."
FDC covers the PR (Preston) and FY (Blackpool) postcodes for TPN and is one of the biggest inputters into the network, which claims to be the UK's largest with throughput of over 100,000 pallets a week and a network of 130 depots.
"TPN tells us it is the UK's biggest network and it certainly has the best service levels," says Maudsley. "We are only as strong as our weakest partner and TPN's great success is that it supports the weaker partners.
"As a big inputter we understand that if we put in say 1,000 pallets, at the other end there are other partners who have to deliver them. If they suddenly get double the number of pallets there will be deliveries not made."
The company sends 10 trunks a night to the TPN central hub, some of which run back only partly loaded, and the network represents around a quarter of FDC's total volumes, with 70% of its transport business being full trailer loads.
"We are probably 60/40 input/output at the moment," says FDC sales manager Joe Wood. "If it wasn't for our groupage division where we group TPN freight and take it direct on our own vehicles we would be sending 12 or 13 trunks a night which would lead to an even greater imbalance.
"We also put five trunks worth of freight into our northern hub."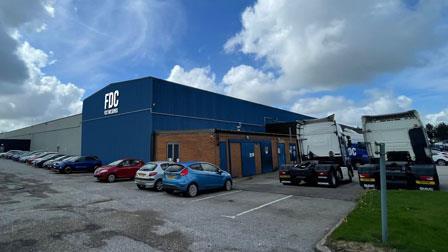 FDC's Walton Summit site has been serving as TPN's northern hub for the last six years. It has four drive-through bays for doubledecks under cover and handles up to 2,500 pallets a night from 35 members who deliver and collect their northern pallets there rather than trunking them to the central hub in Minworth, Sutton Coldfield.
"It was created to relieve pressure on the central hub and to provide a better service to Scotland," explains Maudsley. "The trunks leave here at 1am to go back to Scotland and we are two hours less driving time than Minworth to places like Aberdeen and Inverness, so that has improved our next-day service levels.
"TPN is very strong in the north of the UK in terms of members and volumes."
There is no set policy on what size of shipment FDC would put through TPN or carry on its own groupage service.
"It is more about the configuration of where the truck is going," says Maudsley. "There is also an element of which customer it is. If it is bags of powder for example it is so easy to damage a bag and then the load gets rejected. Taking it direct avoids five movements of the pallet in the network which can be a problem if the pallet isn't wrapped very well.
"If TPN is having a problem in a certain area we also try to be proactive and offer a service with our own truck to ensure continuity of service. In Covid they had a member having difficulties in south Manchester so we put a truck on there permanently until the situation was resolved.
"In the end it is our customers' expectations that drives us and all they want is their pallet delivered on time, in full. We are very proud of our service level and that of TPN, a and that is why our pallet/groupage sector has grown."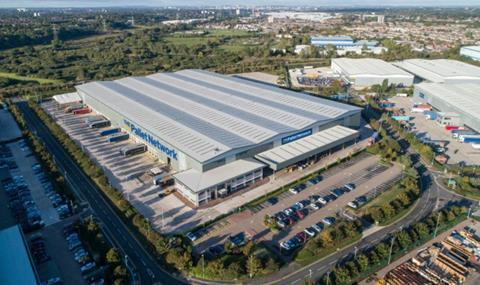 TPN has outgrown its Minworth hub near Sutton Coldfield and later this year is moving to a new £75m, 600,000sq ft site on the former Bison Concrete factory in Swadlincote, south Derbyshire, 20 miles north of its current location.
The relocation has reignited the debate about hub fees and delivery rates, a topic on which big inputters like FDC sometimes have different views from smaller firms which rely more on delivery revenue.
"I would say some smaller members and members in certain challenging areas need to be paid the correct revenue to ensure they can offer the service," says Maudsley diplomatically. "It also depends on the area - take London, for example. In our area our drivers can go out and do eight or 10 drops easily and then do a similar number of collections. In London if they get through four or five drops that is all they will do.
"They do get paid a bit more but making it pay is difficult."
Wood accepts that some of the hauliers who went under in Covid were not necessarily badly run businesses and below-cost delivery rates could have been a factor.
"When we are trying to recruit new members some will say 'I'm not leaving this network as they pay me £20 a pallet and you are only offering £15'," he says. "Now our service levels are back up to where they were before Covid we can go to customers and say 'we need to pay our partners more so the rates have to increase'."
Making money from pallet network deliveries also depends heavily on drop density and Maudsley says FDC is lucky in that its furthest delivery point is Fleetwood, just 50 miles from Preston.
"Some people covering the South West or Norwich or Cumbria could be doing 80 or 90 miles to deliver one pallet," he says. "How do you price that? If you pay them £100 it is arguably still not enough. You have to subsidise it somewhere else and whether that is within our own business or within TPN is the big debate.
"Customers have been winning hands down from the competition between the networks and rates haven't really moved in 10 years."
TPN was acquired by Eddie Stobart Logistics in 2018 and in 2021 became part of the Culina Group when it acquired Stobart parent GreenWhiteStar.
The network has never gone for high volume, low value central accounts, though some members were worried that they would start seeing this type of business in the network after it was sold.
"Culina must have many trucks running around with five or 10 pallets – one option would be to divert these deliveries through the network which strengthens all partners' volumes," argues Maudsley. "It didn't really work when Stobart owned TPN but I think Culina will make it work.
"There will be one or two different operations in the new hub which will help everybody."
Covid also saw a boom in B2C home deliveries through pallet networks, often involving heavy, tall pallets of building materials, turf etc as home owners kept busy renovating their properties.
TPN accepts pallets up to 1,000kg and 2m high without surcharges and FDC has invested in electric pump trucks for every delivery vehicle. It also instructs drivers to deliver only to the kerbside and not attempt to negotiate driveways or garden paths.
"Unfortunately some people have unrealistic expectations," says Maudsley. "They tell drivers 'well, you can't leave it there' in which case the only option is to take it back.
"I take my hat off to all delivery drivers because it is a tough job. People really do maximise what they can get on a pallet."
The FDC fleet currently consists of 70 trucks and 100 trailers and is predominantly Scania R-series on its 44-tonne artics and DAF CFs for its 26- and 18-tonne rigid pick up and drop off vehicles. It uses a mix of purchase and contract hire depending on vehicle type and duty.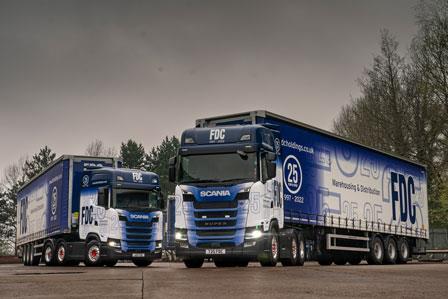 "All of the rigid trucks below 26 tonnes we buy," says Maudsley. "Artics over the years we contract hired but in the last 18 months we have started to purchase. So we will have a mix to give us flexibility because you never know what is around the corner.
"We pride ourselves on running a newish fleet, with most vehicles no more than five or six years old."
Lead times on new trucks have come down in recent months as hauliers begin to delay or cancel orders due to the uncertain economic outlook.
"It depends if you want a specific model and a specific spec," says Maudsley. "Then you can still be waiting 40 or 50 weeks. If you're not as choosy, which generally we're not, you get a better price and shorter lead times.
"Forklift trucks are still on 40 week lead times however."
All FDC's trailers come from two suppliers, SDC and Montracon. A certain percentage have to be in the new TPN livery which Wood says looks "very smart".
"When they rebranded, Culina said that whatever vehicles we wanted in the new livery they would supply and install new curtains," he says.
Sticking to the knitting means no inhouse R&M
FDC does not do any inhouse R&M, using nearby dealers Preston Scania for its artics and Lancashire DAF for its rigids. Its trailers are maintained by NWES, a local trailer rental and maintenance firm.
"We know our strengths and we have a model which works for us," says Maudsley. "It is all about the relationship with our suppliers. Preston Scania who manage our Scania fleet don't offer seven-day servicing but they do five and a half days which has always been a gripe of mine. However, we do get a fantastic service.
"To be fair they will move things around and because all our trucks are connected remotely, they can see when the trucks are here. So they will ring us and say 'we see truck XYZ is in, can we have that tonight if you're not using it?'"
FDC runs on eight-weekly PMIs for most of its vehicles, with only a few older vehicles on six-weekly inspections.
The company operates on two IT systems, the TPN IT-Connect pallet tracking system and a Mandata transport management system. "We are an IT-orientated business and integrate the two systems with our Sage accounting software," says Maudsley.
FDC's drivers working nights or weekends all have the numbers to call if they have a breakdown or tyre problem, so they do not need to contact a traffic planner to get back on the road.
Driver training key to getting top performance
FDC uses Scania's Fleet Management telematics system to monitor the performance of its drivers.
Maudsley recognises that each driver's MPG results can vary enormously depending on the vehicle and route but says most drivers respond well to training on how to get the best from the latest truck technology.
"The conscientious ones will buy into it and that can rub off on to the others so they understand that, when they sit in front of an operation manager asking for a pay review, they will have a better chance," he says. "We get weekly reports from the Scania system and if you put the effort in with them it pays off."
FDC does not reward drivers directly for driving efficiently but it is something the company takes into account in the overall picture regarding efficiency of the operation.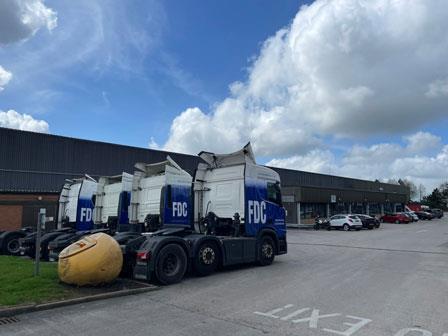 "The costs increase immensely going from a good to even an average driver," says Maudsley. "Agency drivers' efficiencies can be more challenging due to the fact they are driving different trucks all the time."
FDC reduced the percentage of shifts filled with agency drivers to 30% after the significant increase in driver wages in 2021. "We are lucky to have an agency in our building and we work well together," says Maudsley. "Our agency drivers are treated very much like our own drivers."
FDC does not bring in and train up new drivers as yet but has successfully taken a number of Class 2 drivers to Class 1.
Wood is however keen to start a training scheme for new drivers.
"We lost so many drivers when the Driver CPC came in," he says. "We have to try and get the younger generation into the industry. The problem is insurance – too many companies won't employ drivers under 25 or until they have two years' experience. By that age many people have already decided on their career and won't suddenly say 'let's go into trucking'.
"Our insurance now allows us to have drivers with one year's experience and it is something we are looking at."
Electric Scania on trial
At the time of MT's visit in August, FDC was about to dip its toe in the zero emissions world with a trial of its first battery electric truck – an 18-tonne Scania.
"We need to see if it can do 10 drops and a similar number of collections in our TPN territory," says Maudsley. "We know electric vans work well on short trips but the problem we have is charging.
"We are quite fortunate here at Walton Summit as this used to be Bosal Exhaust's factory so we have quite a large electrical supply. But until we get a charger installed it will be going to the local Scania dealer who can fast charge it for us in two hours."
While FDC still has 10 trampers out on the road all week, the majority of the trucks return to base and when the fleet begins to switch to electric they will need both overnight and fast charging on site.
"A lot of the trucks are double-shifted," says Maudsley. "They go out during the day then at night they go down to the TPN hub. Hopefully the new hub will have charging facilities so we could run down on a charge and recharge while they are being unloaded and reloaded. We will need to provide something similar here at the northern hub so they can tip, charge and go back."
FDC is also considering a switch to hydrotreated vegetable oil (HVO), a low carbon emissions drop-in replacement fuel. It has its own fuel bunkering station at Walton Summit and is looking at a couple of possible suppliers.
"It costs 30% more but there is an 80% saving on CO2 emissions which is key to some of our major customers," says Maudsley. "A great number of customers would engage in this project to gain the emissions savings but it does come at a cost!
"We will endeavour to implement changes to reduce our emissions going forward through various routes. As a medium size business in a very competitive sector we have to be doing something slightly different to ensure we stay ahead in this fast moving industry."
Family owners still in it for the long haul
FDC is still owned by one of the founders Stephen Allen and his younger brother Peter, and they have no plans to sell what is a successful and growing business.
Wood is the grandson of co-founder Stephen Allen and he says the family is in "no mood to slow down".
Aged just 30, when he finished college he wanted to earn some money in the family firm before deciding what to do with his life. "That was 12 years ago," he says. "I managed to get to Australia for a few months then I was straight back here!
"Since we left Chorley we have just grown and grown. When I started we did two trunks a night to the hub."
Maudsley is confident that the new blood the company has brought in in recent years will ensure the business continues to thrive.
"We have a young team below the senior management who are learning and bringing in different skills which is very important," he says. "We are very positive that we will keep going with the model we have got and there might be some new doors opening as competitors ease off.