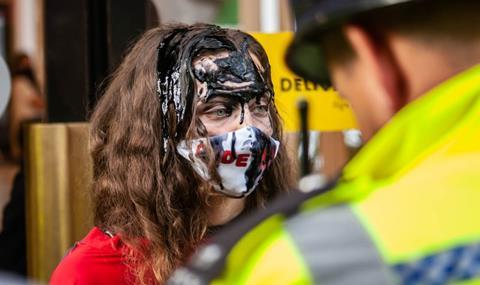 The Esso West London oil facility near Heathrow Airport has been blockaded for the second time in four days by Extinction Rebellion environmental campaigners.
The protestors launched the action at 4am this morning (4 April) and have blocked the entrance to the site with two bamboo tripods, from which protestors are suspended. Other campaigners are lying in the road locked onto oil drums and each other.
Extinction Rebellion say they will continue to block oil facilities across the UK until the government agrees to stop all new fossil fuel investments immediately.
This latest blockade follows a spate of protests on Friday which saw 10 oil facilities blockaded by a coalition of Extinction Rebellion and Just Stop Oil campaigners.
The protestors targeted facilities at West London; Hythe and Hamble, near Southampton; two terminals at Grays in Essex; another at Purfleet; the Esso Birmingham terminal; the Kingsbury oil terminal in Warwickshire; the BP Depot in Tamworth; and the Buncefield terminal at Hemel Hempstead.
The protests forced operations to be suspended at Hythe, Birmingham, Purfleet and West London terminals, until mid-afternoon on Friday, according to ExxonMobil.
Over the weekend Just Stop Oil continued to block oil depots in Grays, Purfleet, Buncefield, Tamworth and Birmingham.
Andrew Smith, a spokesman from Extinction Rebellion said: "We're here to say that climate action cannot wait. Right now, governments are choosing to exploit the crisis in Ukraine to hand out oil licences and continue the fossil fuel economy that's destroying us.
"They are exploiting public fear and disorientation at a time of crisis when people's bills are going up to advance corporate-friendly policies incapable of attracting democratic support.
"The reality is, the UK public wants faster action on climate as the energy crisis hits. We know what is happening and what needs to be done – by acting in favour of corporate interest over the will of the people, the government is showing contempt for the people who elected them.
"How long ago did our Prime Minister say COP26 was our last chance to save humanity? And now they're side lining climate policy once again. This is not living in reality."
Charlie Gardner of XR Scientists, added: "Just a month ago, the world's scientists warned that we have a brief and rapidly closing window to secure a liveable future.
"Yet, incredibly, the media paid it almost no attention and our government continues to double down on our addiction to fossil fuels. There really could be no more serious warning, and we absolutely need to take emergency action."
RHA MD of policy, criticised the group's tactics. He said: "It is incredibly unhelpful to take this direct action at a time when critical infrastructure is so important to all of us. It is short sighted and there are other ways of making the point without disrupting key fuel supplies."
Extinction Rebellion said the disruption at oil facilities in the UK is a preface to its plans for widespread protests beginning in London on April 9th.