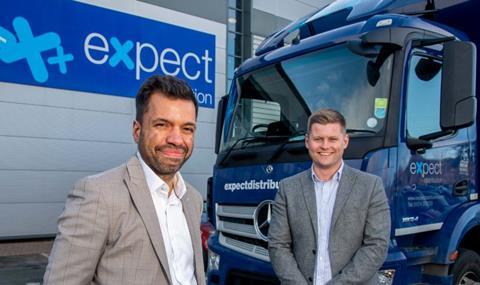 Expect Distribution has announced the acquisition of Essex-based transport company Pallet Plus to drive further growth.
Operating from four West Yorkshire sites and incorporating over 600,000sq ft of warehousing, Expect said the purchase of the £10m turnover Colchester business will strengthen the group's overall offering, expanding operations in the South East and solidifying its capabilities as a UK-wide logistics and warehousing company.
Expect said Pallet Plus appealed to them as as 'a well-run and efficient distribution business, with a strong brand and modern fleet, long-term employed qualified drivers, an impressive IT infrastructure and - crucially - a culture and value-set that aligned and complemented that of Expect'.
Established in 2005, Pallet Plus is a modern, family-run business providing national final mile distribution of palletised freight to and from the Essex region. Primarily a pallet network operator and a member of TPN, UPN and Palletways, it has a strong customer base in its immediate area which provides Expect with the opportunity to grow volume over the medium term and exploit existing synergies with current volume.
Read more
The acquisition of Pallet Plus will see Expect's turnover push close to £60m, the workforce increase to 440 headcount and the combined transport fleet to 190 vehicles
Expect MD Matthew Kilner said: "The fantastic reputation, dedication of the senior management team and drivers, operational capabilities and longstanding membership with three national pallet networks [The Pallet Network, UPN & Palletways], were more than enough for us to consider this acquisition. But beyond this, the cultural fit of the business was key. Pallet Plus are clearly a company punching above its weight and we are certain the two businesses will integrate seamlessly."
Added operations director and co-owner Andy Taylor: "With the purchase of Pallet Plus, we can not only significantly increase our presence in the South East with an owned operation but also bolster the proposition, by expanding the transport side of the business and introducing, in the medium term, a new warehousing offering which has been an important growth area for us in Bradford over recent years. I'd personally like to thank the team at Pallet Plus, and we look forward to working with them, to take both businesses forward."
Pallet Plus MD Gary Rowe said: "The acquisition by Expect Distribution is a significant milestone and marks an exciting new chapter for both companies. Together, we will combine our collective resources, cutting-edge technology, and industry knowledge to provide even greater value to our clients. As we embark on this journey, I want to express my gratitude to our loyal customers, dedicated employees, and valued partners."