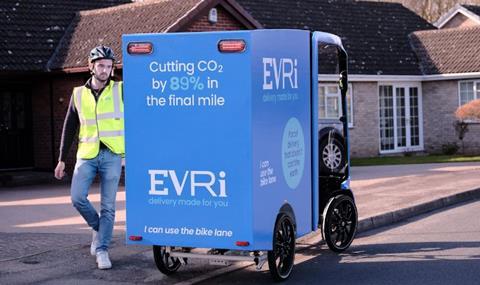 Evri has partnered with Zedify and Urb-it to provide 100% carbon free deliveries in the Bristol clean air zone (CAZ).
Zedify and Urb-it will use their e-cargo bikes to deliver to consumers' homes within the CAZ, meaning all deliveries under 15kg will be emission-free.
Evri said it had also started a trial with Urb-it in Glasgow's LEZ to explore how efficient the bikes are ahead of its introduction in June 2023.
The trial will also assess whether the e-cargo bikes are more reliable in built-up areas that are challenging to deliver to using traditional methods.
Nancy Hobhouse, head of environmental, social and governance, said: "Using these bikes means that all deliveries made to consumers' homes within the low emissions zone that are under 15kg will be done 100% carbon free, with a single bike expected to produce a carbon saving of 3-tonnes alone."
Simon Whitehead, head of Bristol hub at Zedify said: "In 2021, we launched our award-winning cargo bike delivery service in the city.
"Now, with the launch of a new clean air zone, this collaboration helps to maximise our impact in dramatically decarbonising the process of getting parcels to people's doorsteps and cleaning up Bristol's air."