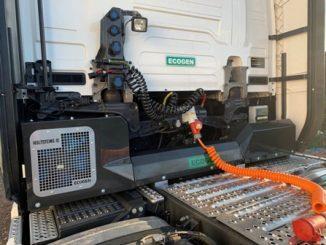 Hauliers must be prepared for a "major cost increase" when the government ends the red diesel rebate from refrigeration units in April, according to the Cold Chain Federation (CCF).
New laws to clean up air are being introduced, which involves the removal by HM Revenue & Customs of the rebate for red diesel for most sectors.
Refrigerated systems manufacturer Hultsteins has already warned that the move could add thousands of pounds of extra cost, per year, per fridge, for all diesel fridge operators.
The CCF said haulage businesses worked tirelessly for the last two years to serve the country during Covid-19 and were now facing an imminent increase in fuel costs after the government reneged on its promise to support the transition away from using diesel for transport refrigeration.
It is urging members to plan well ahead of the 1 April deadline how to mitigate soaring fuel costs.
Read more
Tom Southall, CCF policy director, said: "The changes to government red diesel regulations mean hauliers transporting chilled and frozen products will have to pay more than double to power the tens of thousands of fridges that manufacturers, retailers and consumers rely on to keep food safe and prevent waste across the supply chain.
"We estimate this change will add up to £100m in additional cost to the supply chain.
"We are advising temperature-controlled distribution operators to ensure you have plans to use up stocks of bunkered red diesel by the 31st March, contact your customers to make them aware of the increased cost and check contractual arrangements with customers to ascertain ability to raise cost of service in line with fuel inflation," he added.
CCF CE Shane Brennan said transport firms were being neglected by the government, despite maintaining the fresh and frozen supply chains throughout the pandemic: "The cold chain industry is working towards a net zero future and businesses want to transition to cleaner equipment, but the alternatives to diesel for vehicle refrigeration are still limited in number, relatively untested and prohibitively expensive," Brennan said.
"The government should be supporting businesses to invest in the development of reliable, widely available alternatives for vehicle refrigeration as it promised, and we will keep pressing for this support to come through urgently."