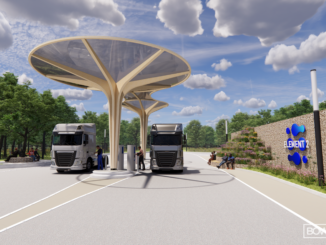 Plans to roll out a UK-wide network of refuelling stations for hydrogen-powered HGVs by 2027 moved a step closer this week with the creation of a partnership between hydrogen refuelling firm Element 2 and hydrogen producer Tower Group.
Tower Group's hubs, which store locally-produced green hydrogen, will supply a network of permanent HGV refuelling stations which Element 2 plans to build along key haulage routes in Devon and Cornwall.
The hubs, which will be built in three key locations in Devon and Cornwall, will also supply Element 2's mobile refuelling stations in the South West.
Tower Group will also establish hydrogen hubs at sites along critical M5 motorway and A30 trunk roads connecting the South West with London.
In addition, Element 2 will provide Tower Group with technical and logistical support for planning or scoping exercises in relation to establishing its hydrogen refuelling solutions, as well as collaborating with Tower Group to identify fleet customers for the hydrogen stored at its facilities.
Dr Andrew Hagan, Element 2 chief development officer, said: "Today's announcement is further evidence of us delivering on our plans to operate a UK-wide network of safe, high-quality hydrogen refuelling stations from Land's End to John o' Groats by 2027.
Read more
"By working in partnership with Tower Group and other forward-thinking organisations in the UK hydrogen economy, together we will enable the decarbonisation of heavy goods transport across the country and deliver a greener future. This agreement is a significant step towards this shared goal in the South West of England."
Alex King, Tower Group chief executive officer, added: "Hydrogen will play a central role in the decarbonisation of a range of industries in the South West, including road transport.
"Our hydrogen hubs will have the capacity to store significant volumes of hydrogen, and working with partners like Element 2, we will be able to ensure a regular and reliable supply of hydrogen to customers.
"Together, we will develop a clean and green eco-system in the South West, supporting local jobs and local industry."
Simon Earles, chair of Hydrogen South West, said: "We are delighted to see partnerships such as these being announced because it is only by working together that we will grow the hydrogen ecosystem to meet the increasing demand in the South West.
"I am hugely excited to see the hydrogen production, storage, and distribution at the heart of this collaboration come to life and help fuel the region's transition to net zero."
For more stories tracking the industry journey to decarbonisation see our new Freight Carbon Zero website.